Bringing a Global Vision for Computing to Bethel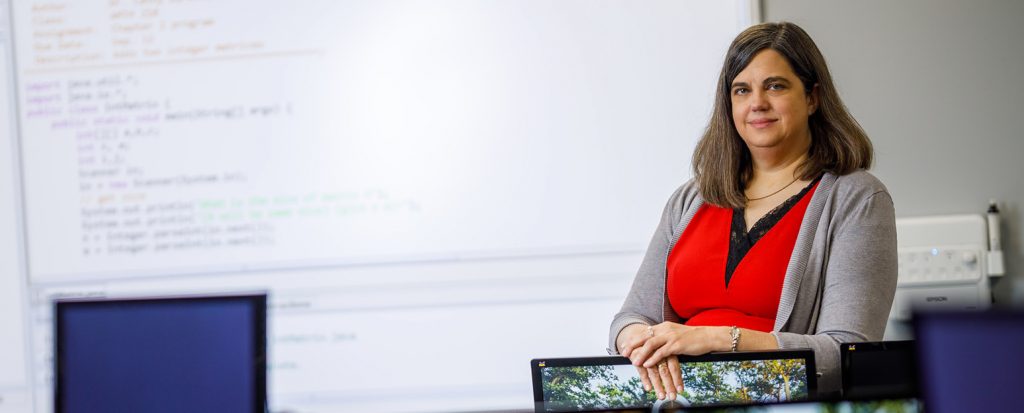 The director of Bethel University's new computer science major isn't shy about her academic passions. "Math was my first love," says Cathy Bareiss, Ph.D., Professor of Computer Science, "but computing is my true love."
Computer science has changed considerably since Bareiss first started teaching it 32 years ago, although her passion for the subject hasn't diminished in the least.
"My ideal job was to help a Christian college develop a computer science program from scratch – I was ready for a challenge," she says. "Bethel is the right fit for me, and this brand-new program allows me the ability to realize my vision."
Bareiss is starting off with 12 declared computer science majors (six of them new students), and her goal is to get that number up to 75 in five years.
"Industry-wide, we've not been training near enough computer-proficient specialists to meet demand, and our program will help address that need," she says. "Plus, our liberal arts curriculum will equip our graduates with the soft skills that employers are clamoring for, like technical writing."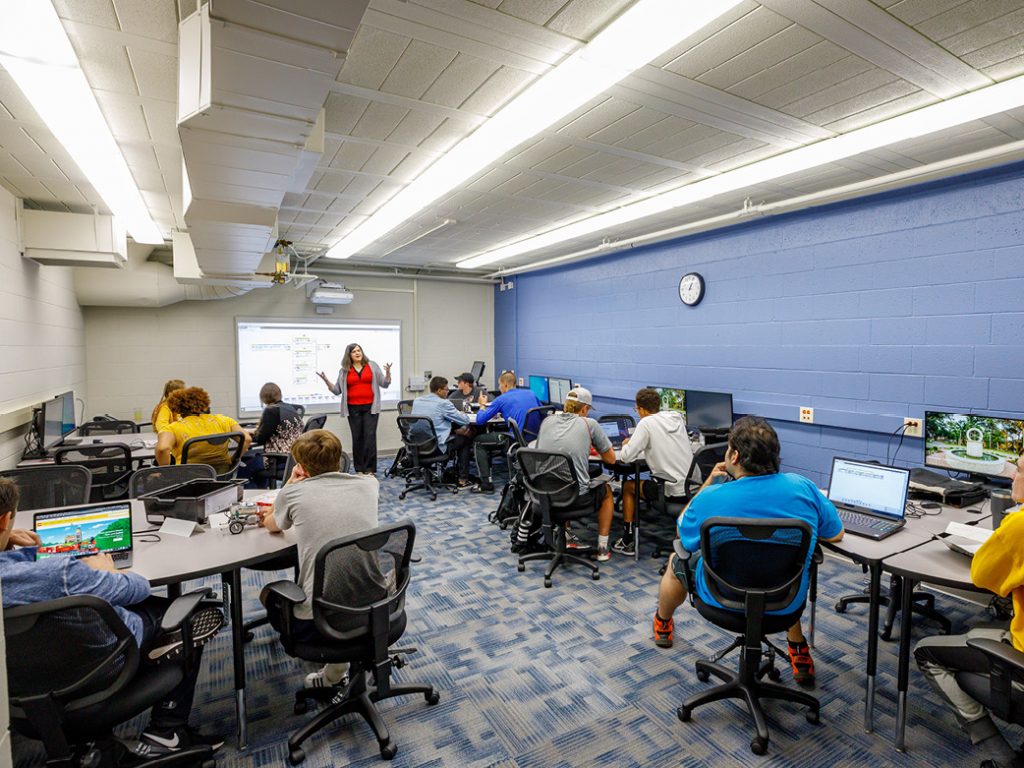 Bethel University's close ties to the Missionary Church, and its historic connections with preparing students to be missionaries, are an important part of Bareiss's goals for the major.
"The mission field used to consist primarily of three callings: pastors, educators, and healthcare workers. Now, there's a fourth: Information Technology, an essential tool for spreading the Gospel today," she says.
Bethel's Christian identity also allows Bareiss to instill integrity and accountability in her students, regardless of whether they end up in missions, business, or industry.
"There's a great need for high ethical standards in this field," she says.
Bareiss's immediate aims this first year involve weathering the adjustments and fine-tuning that naturally accompany any fresh venture.
"I'm thrilled to take this on, but I'm also a bit scared," she admits. "It's what I've been telling my freshmen: What you're going through, I'm going through."
Despite these new-program jitters, Bareiss can't hide her irrepressible joy.
"I love computers, and I love Christ," she says, "so what I'm doing here at Bethel is … fun!"
EXPERIENCE
Professor of Computer Science, Department Chair and Co-Chair
Olivet Nazarene University, Kankakee, Ill.
1987-2019
Visiting Professor of Computer Science
Korea Nazarene University
2010-2011 (sabbatical year)
NASA Summer Faculty Research Fellowship
1997, 1999
Evaluator for the Accreditation Board for Engineering and Technology (ABET)
2006-present
Traveling to Vietnam in Oct. 2019 to evaluate program there
ACADEMIC CREDENTIALS
Ph.D., Computer Science
Illinois Institute of Technology, Chicago, Ill.
M.S., Computer Science
Purdue University, West Lafayette, Ind.
B.A., Computer Science and Mathematics
Indiana Wesleyan University, Marion, Ind.
Learn more about the Computer Science program at Bethel University.
Rick Becker '04 (BSN) serves on Bethel's nursing faculty. He and his family reside in South Bend, Ind.