Piloting New Waters: Swimming Comes to Bethel University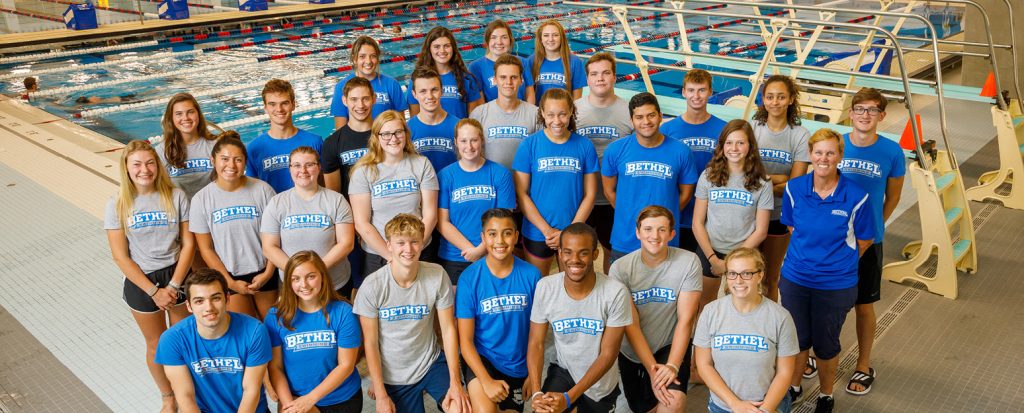 Freshman Elisabeth Wolfe swam four years for her Battle Creek, Mich. high school team, but she wasn't thinking about swimming in college — and she wasn't familiar with Bethel University. "The school kind of found me," she says.
Specifically, it was Deb Thompson, Bethel's first swimming and diving coach, who reached out to Wolfe and invited her to join the new team. Thompson has been coaching high school and college swimming for 26 years, earning 11 conference titles and recognition as "coach of the year" six times. Since 2011, she taught kinesiology as a Bethel adjunct before eagerly accepting the new coaching position last year.
"I've been actively recruiting since then," says Thompson, who tapped 29 swimmers and divers — 16 women, 13 men. "It's exciting to be on the ground floor — so many of them are freshmen. They'll be helping shape this team's culture."
The draw of a state-of-the-art athletics complex for practices and competition enhanced Thompson's recruiting efforts. Bethel has partnered with Elkhart Health & Aquatics, part of the Beacon Health & Fitness network, which just opened its $72-milllion center in July. Elkhart Health & Aquatics' pool is enormous. At 1.1 million gallons, and close to 18,000 square feet, it's one of the top five largest pools in the United States.
"It's larger than Olympic-sized, and big enough that a high school team can be practicing at one end while we're hosting a competition at the other," notes Bethel Athletic Director Tony Natali. "The short drive to Elkhart is nothing compared to the benefit."
Alan Loyd, Executive Director of Beacon Health & Fitness, sees the relationship between Elkhart Health & Aquatics and Bethel as a win-win proposition.
"The collegiate presence here is wonderful," he says. "We expect the relationship to be long-term and expand."
It's a relationship that will certainly benefit Bethel's swimmers, although just getting to Bethel has already benefited Wolfe.
"The atmosphere here is insane — it's so good," she says. A Christian Ministries major, Wolfe looks forward to summer mission trips, but for now she's balancing studies and practices in the pool. "God leads us one step at a time. I can't wait to see what happens!"
Rick Becker ('04, BSN) serves on Bethel's nursing faculty. He and his family reside in South Bend, Ind.