Bethel University Highlights
BY THE NUMBERS: BETHEL'S ECONOMIC IMPACT ON INDIANA*

Bethel University and its faculty, staff and students directly purchase $36.8 million in goods and services from Indiana businesses.*
Those transactions result in 711 jobs and nearly $72.2 million to Indiana economy.
*From Independent Colleges of Indiana (ICI) Economic Impact Report, 2018
EXCITING CHANGES
Van and Jean Gates Welcome Center Completed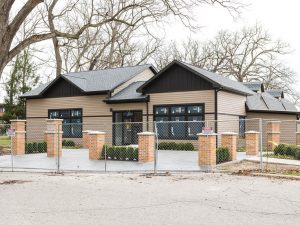 Construction on the Van & Jean Gates Welcome Center is now complete. The addition to the existing Admission Office was generously funded by the Gates family and other Bethel donors and provides a beautiful space to welcome prospective students and families to Bethel's campus.
Computer Science Labs Renovated
This fall, renovations on the Middleton Hall of Science lower level were completed, adding two new donor-funded computer labs and a lounge. These spaces support new majors in Computer Science and Cyber Security.
GROUND BREAKING FOR $3.9 MILLION TRAINING FACILITY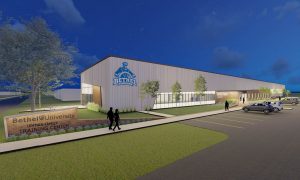 Bethel will soon be breaking ground on the Lehman Family Training Center, named for alumnus and chairman of the Board of Trustees, Randy Lehman '82, and his family. It will support expansion of student opportunities on campus. It will provide practice space for athletic teams, work out space for students, and will open up access to other athletic facilities on campus (that are currently used as practice space for athletic teams) for activities such as intramurals and student life events. The building is expected to be complete by the end of 2020 and serves the GROW campaign goal of adding 200 student-athletes by 2023.
NATIONAL RECOGNITION FOR BETHEL PILOT ATHLETICS
Ranked 14th-Best NAIA School for Student-Athletics by NCSA
Bethel University has been named one of the best schools in the U.S. for student-athletes, according to the Next College StudentAthlete (NCSA), the country's largest and most successful college athletic recruiting network. The 2019 NCSA Power Rankings ranked Bethel No. 14 in the NAIA; No. 2 in Men's Track & Field and No. 2 in Women's Lacrosse.
BETHEL WORK CULTURE
Data from the Best Christian Workplaces Institute shows that Bethel University is one of only six universities in America that grew work culture scores from a low rating to "flourishing".