Spring 2020 News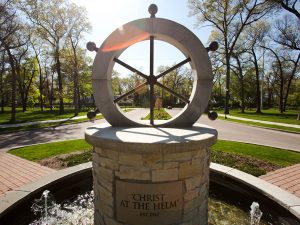 Classes Move Online, Events Postponed in Wake of COVID-19
Due to the Coronavirus crisis in the United States, Bethel University transitioned courses to an all-online format beginning March 18 through the end of the semester. Following state and local guidelines and mandates, the May 2 commencement has been postponed to Aug. 16, and a number of fine arts events, including "Wizard of Oz", were cancelled, along with athletic competitions. The April 24 Give Back Gala, featuring J.C. Watts, has been postponed to July 17. Despite these changes, faculty and staff have been working hard to sustain academic excellence, foster community and provide services to students in a digital format. As the situation continues to unfold, visit BethelUniversity.edu/StrongerTogether for updates and more information.
Art Students Give Back to Community
Bethel's Art Department gave back to the community in a creative way during the fall semester. Each typography class student, taught by Chad Jay, adjunct professor of Graphic Design, created a proposal for a series of 10 posters with information about Dustin's Place, a Center for Grieving Children in Plymouth, Ind. The work of senior Kayla Maike, Graphic Design major and Marketing minor, was selected to be displayed at the facility during the November ribbon-cutting ceremony and open house. See more at BethelUniversity.edu/Stories.
BU Student-Athletes Recognized for Character
Three Bethel University students were honored with NCCAA Game Plan 4 LIFE (GP4L) Character Awards, which recognize academic excellence, athletic achievement and Christian service and conduct. Built on the Christ-like traits of Love, Integrity, Faith and Excellence, the NCCAA GP4L awards program seeks to honor one student-athlete in each sport who best displays these qualities. Recipients include senior Brooke Thomas, 2019 Dan & Kelly Wood Award for Women's Golf; junior Emma Jankowski, 2019 Ray Bullock Award Recipient for Division I Women's Cross Country; and senior Bekah Spencer, 2020 Wheeler Award for Women's Indoor Track & Field.
Visit BUPilots.com for more athletic news.