Welcome Center: Made Possible Through Generosity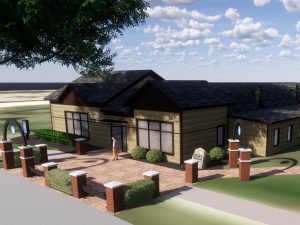 The Van and Jean Gates Welcome Center will be dedicated this summer and open to admission visitors soon after that. The beautiful new space, an addition to the historic Admission Office, features a courtyard, a large showroom for prospective student visits, and a conference room, among other amenities. These three spaces are named after people who have had a significant impact on Bethel University. Through generous gifts, their legacy will live on for generations of Pilots.
VAN AND JEAN GATES WELCOME CENTER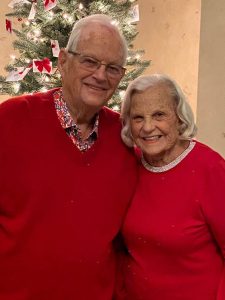 Gates Chevy World has been a McKinley Avenue neighbor of Bethel for more than 50 years. The Gates family has served on the Bethel Board of Trustees in each of the last five decades and has always appreciated its strong relationship with Bethel.
Van Gates, born 1924 in Hamilton, Ind., completed his Bachelor of Business Administration and Naval Science and Tactics at Northwestern University before serving in the Navy as a commissioned officer from 1943 to 1946. He married Jean (Inglefield) Gates on June 15, 1945, after returning from service in World War II. Van then joined his father at Gates Chevrolet. Van founded Gates Toyota in 1982, now in its fourth generation of family leadership. Jean Gates, born in Chicago in 1925, graduated from Adams High School in South Bend and attended Northwestern University on a teaching curriculum. Jean was active in the community in First Presbyterian Church, the PTA, Junior League, and numerous other civic and community organizations. She has a strong faith and is devoted to her family, her church, and her Lord. The couple has four children: Larry, Bill, Bonnie and Kitty, 15 grandchildren, and 45 great grandchildren.
GILLUM CONFERENCE ROOM
The Gillum Conference Room is named in honor of Deborah Gillum, Ph.D., who began at Bethel in 2004, serving as Assistant Professor, then Associate Dean, and ultimately as Professor of Nursing and Dean of Nursing. She specializes in medical-surgical and cardiovascular nursing, academic nursing leadership and is a certified nurse educator and adult and family nurse practitioner.
"Dr. Gillum exemplifies experienced Christian nursing leadership. Her strong beliefs in Wholistic Care, including spiritual and mental health, are taught by the strong faculty whom she guides." – Jane Cox, Ph.D., APN, CPNE, who supplied the lead gift and named the space in Gillum's honor.
KRAKE COURTYARD
Krake Courtyard is named for Bethel's first graduate in 1948, Marcus Krake, and his wife Virginia (Schultz) Krake, a 1949 alumna. Their descendants became Bethel's first four-generation family, serving the institution in various capacities. Virginia's words to the student body, in the Sept. 27, 1948, Bethel Beacon, still reach contemporary students:
"At Bethel, the Lord helped me see His way more clearly and do His will more fully. My earnest prayer is that through Bethel the Lord may continue to bless many young people as He has blessed me."