Women's Soccer Team Serves in Guatemala
Jamie Lindvall, head coach of Bethel's women's soccer team, and his wife, Rachel Lindvall, M.S., assistant women's soccer coach and assistant professor of kinesiology, have been working with Engadi Ministries for the last 13 years. They have taken five trips to Guatemala, most recently leading the women's soccer team on a task force trip to Zona 18 of Guatemala City, where Engadi Ministries works to provide a nurturing environment for young boys in order to deter gang involvement.
During their time in Guatemala, the soccer team assisted Engadi with construction on a preschool, taught English to both children and adults and held soccer camps for local youth.
"A lot of the girls really enjoyed the English school because they realized just by being a native speaker, they had something to offer," says Rachel, explaining that learning English is a pathway to a higher paying job and a better life in Guatemala.
The soccer camps, which involved four days of working mornings at the school during PE time and evenings at community camp, were also especially impactful to the team.
"[The soccer team] felt such joy coming from those kids that they felt like God showed his love through those kids, which was something they didn't anticipate … They [saw] God's love in a different way than they had imagined or felt before," says Rachel, who adds that a few of the girls had been wrestling with faith before the trip.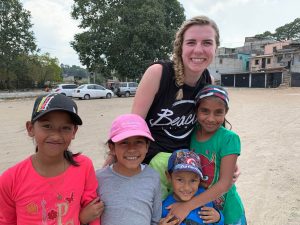 Freshman Hailey Sutyak '23 felt that impact. She says, "I was impacted spiritually … by the way God moved through the children to open my eyes to a part of the world that did not have as much as I do in life."
Sutyak hopes that everyone will have the opportunity to be immersed in another culture, saying, "I feel that everyone in their lifetime should go on a mission trip to open their eyes to everything that is going on outside of them."
The Lindvalls plan to repeat this trip regularly in the future, returning to Guatemala with the team every two years.
"It definitely bonds us as a team," Rachel says, "but I think that the cultural experience is the most important thing and recognizing how much we have here. Going to a Third World country, you realize that the things we worry about, we are privileged to worry about … I just think it's important to share that opportunity with [students], that perspective."