Disrupting Racial Trauma in Minneapolis
Arielle (Byl) Grant '16, a Bethel University graduate with a degree in communication, is now also an author, illustrator and founder of Render Free. Render Free is an organization in Minneapolis, Minn., dedicated to disrupting racial trauma and promoting whole-body wellness for self-identified black and brown women.

Through Render Free, Grant strives to provide a safe space where black women can find reprieve from the microaggressions, institutional racism and psychological weathering they may face in their daily lives and workplaces. Grant explains that it can be mentally exhausting as a black woman to work in institutions that are not designed with black women in mind.


It was the desire to create such a place that drove Grant to start Render Free, and she was amazed at how God opened the doors for her to bring her vision to life.

She found support in her church community and Ace in the City, an organization committed to community relationships, where she now works part-time, facilitating partnerships and managing their newly renovated space as the Director of Community Advancement. Ace in the City is launching a collaborative of five partner organizations (including Render Free) that will operate in its Center of Belonging.

Render Free opened Oct. 1, and offers a lounge, café, co-working area, and kids' clubhouse, though Grant dreams of future growth to enable events like overnight retreats.

In addition to her work with Ace in the City and Render Free, Grant is also author and illustrator of a children's book called "The Picture Box."

This book was inspired by a season of uncertainty in Grant's own life. Before Grant and her husband Tommy – a graduate of Bethel University's 3/2 Engineering program with the University of Notre Dame – moved to Minneapolis, Minn., Grant was working for Transformation Ministries in South Bend, Ind., where she had interned as a Bethel student. In Minneapolis, she looked for jobs where she could continue making an impact, especially by contributing to the black communities and confronting systematic racism. At first, her search seemed promising.

"I found several organizations that spoke of equity, but they weren't committed to the work of antiracism," says Grant.

After stepping away from her first job in Minneapolis, she found herself facing a season of unemployment – something she didn't anticipate. She began facing self-doubt, questioning her identity in a time when she couldn't define herself by her career.
"I wanted to show little girls that no matter what job they hold or what season they are in, they have inherent worth," says Grant, who explains this was the conclusion to her journey of self-discovery.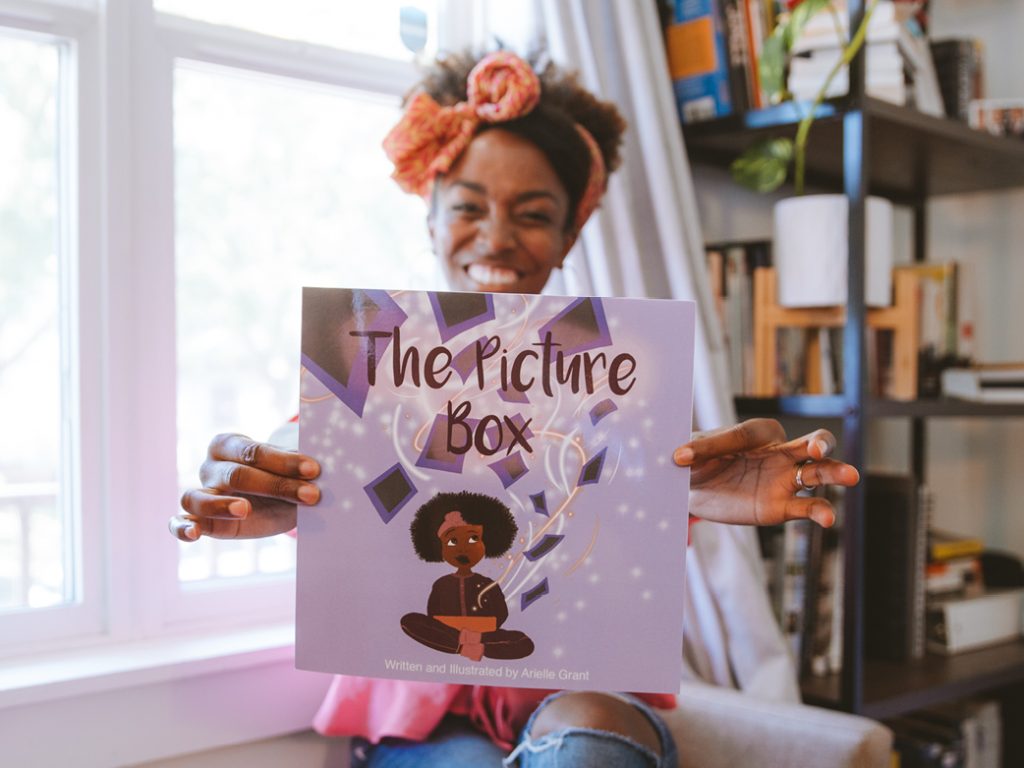 The result was "The Picture Box," a story of a young black girl named Ardelia who grapples with her identity after moving to a new town and being given the assignment at school to consider who she might be when she grows up. Along the way, Ardelia finds hope through witnessing successful black women in many different careers.

Grant explains that this representation of black women is important for children because, "We can only dream what we see. Imagination is about taking what we know and expanding it."

Ultimately, it is the reassurance of Ardelia's family and the lesson Grant learned in her own life – that she will always have worth just by being herself – that frees Ardelia to begin imagining her future.

Purchase "The Picture Box" at strivepublishing.com/books/the-picture-box. Support Render Free with an Ally Membership at renderfree.com/support.