The Show Goes On!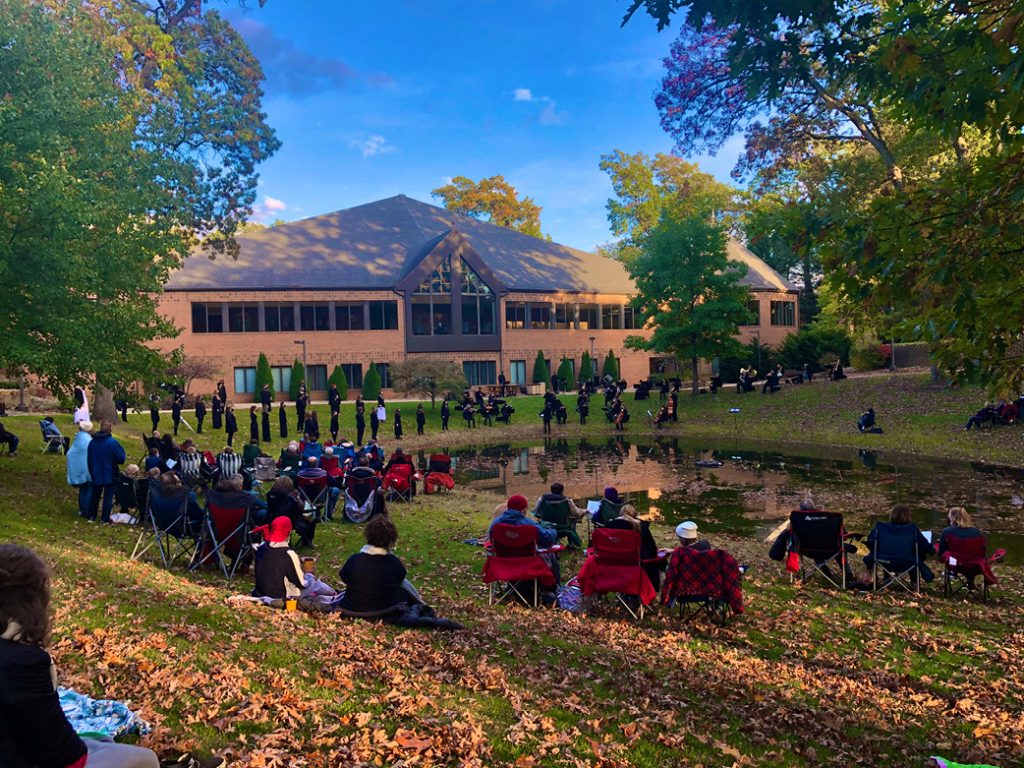 Despite COVID-19, the Bethel University Music and Theatre departments are committed to providing students with opportunities to practice and perform in a way that ensures safety for all. According to Art Music and Theatre Department Chair and Production Manager Don Hunter '06, faculty and staff have spent countless hours planning how to incorporate coronavirus precautions while balancing the factors that make their performances special.

One of these ways is providing performances at reduced-capacity to maintain physical distancing. In September, a small cast performed Operatic Irregulars, an annual comedy opera, to a physically distanced audience in the Everest-Rohrer Auditorium.

Another way has been converting indoor rehearsals (and performances) into outdoor ones. Vicky Warkentien, D.M.M, Professor of Music, explains that because of the high level of perceived risk for singing and woodwind and brass instruments, both the Concert Choir and Chamber Orchestra have been practicing outdoors by the ponds.

"It's not an easy task, we have constantly followed the Weather Channel and pay close attention to the wind direction of the day," she says. "We have maintained physical distancing of 12 feet between woodwinds and brass players depending on the wind, and singers are required to wear face masks during rehearsal and concert."

All the hard work and planning paid off when the Music Department was able to put on two successful outdoor concerts this October, including the Choral Concert, featuring the Concert Choir, Voices of Triumph and Spirit in Motion dance troupe, and Chamber Orchestra Concert. (The Percussion Ensemble Concert, originally planned to be outside, was relocated to the Everest-Rohrer Auditorium due to weather). The outdoor concerts have provided a unique, safe viewing experience for the audience, and stretched the performers to project their sound across the ponds.

Warkentien says that this experience has taught both students and faculty to keep their faith strong because God is still in control. She felt this during the closing of the choral concert, where the audience jointly expressed their faith, along with the students and dancers to sing, "He's Got the Whole World in His Hands."


The Theatre department has planned to perform one show this fall, "Twelfth Night," Nov. 12-14, and two next spring. They've invested significant time in training understudies to maintain consistency in the case of illness. Hunter says the show will be performed virtually for the safety of cast and audience members. Tickets for the livestream are on sale now and may be purchased for $13 for individuals and $30 for families at BethelUniversity.edu/Tickets.