Advocating for Public Health in a Pandemic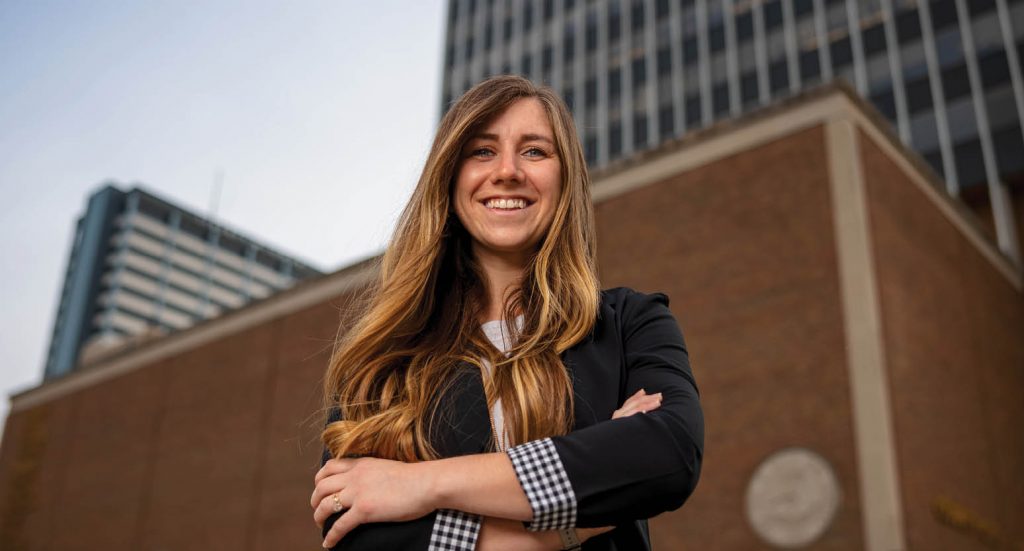 Cassy White '17 is director of health equity, epidemiology and data at the St. Joseph County Department of Health in South Bend, Ind. She is a graduate of Bethel's 4+1 International Health/Master of Public Health (MPH) program, which enabled her to earn a bachelor's degree in international health from Bethel University and an MPH from Indiana Wesleyan University in just five years.

White has worked with the St. Joseph County Department of Health for three years. However, she moved into her current role when the Unit of Health Equity, Epidemiology and Data was created in July 2020, in response to the COVID-19 pandemic. Since then, White and her team have focused on collecting and managing data from positive COVID-19 tests and vaccinations, and have been working with state and local partners to provide a data-driven response to COVID-19.

"We worked closely with nursing homes and school systems, providing guidance around contact tracing," explains White, whose role also includes providing data for community updates and ensuring a fair distribution of vaccinations. "We look at who in the community is getting vaccinated and where the gaps are so that we can make sure it is equitable," she says.

White explains that her team is also "partnering with the outreach department to address vaccine hesitancy," by making sure needed information is reaching everyone in the community.
White was able to get some hands-on experience as a student in the 4+1 program by working for the St. Joseph County Department of Health while completing her master's online, but the pandemic gave her additional "real-life experience that you never get from a textbook or case studies," she says.
White explains, "This pandemic allowed the space to learn (very quickly) how to work with real-time data to ensure we as the Department of Health are making data-driven decisions to help protect our communities."

Despite the difficulties caused by the pandemic, White says her personal journey at Bethel has helped her in her career.

"I still have friends and mentors to this day from Bethel and that helped shape me into who I am … This [foundation] gave me the ability to have confidence and faith to move forward in my work," she says.

One such mentor was Cassie May, Ph.D., former assistant professor of biology, who taught an epidemiology course while White was a student and provided guidance for pursuing a career in epidemiology. Now, White faces the new and changing requirements the COVID-19 pandemic has brought to that career by falling back on the academic and spiritual growth she experienced as a student.

"This pandemic has brought uncertainty and fear across the globe, but my education and faith instilled in me to trust science and have hope in God," she says.