Inspiring Kinesiology Students to Aim High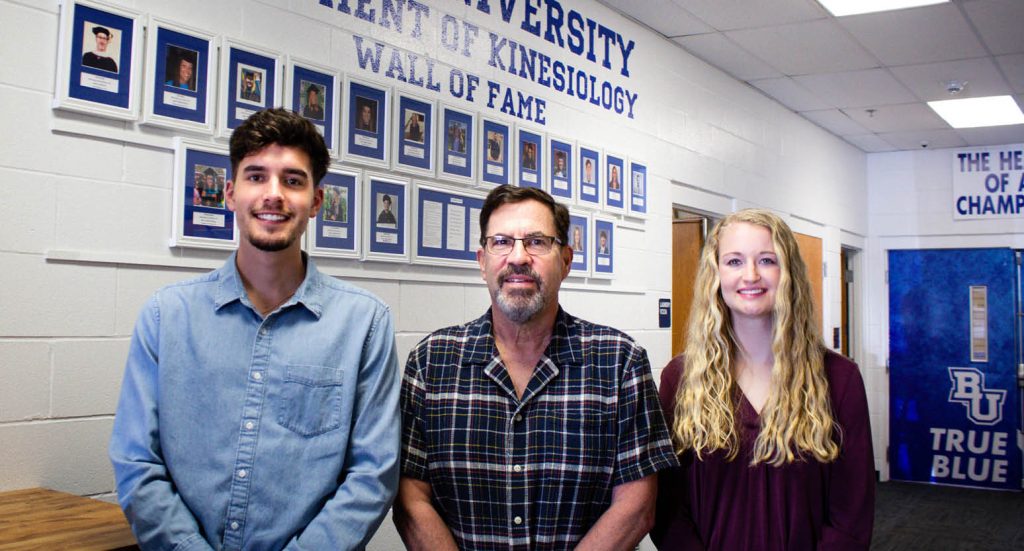 Assistant Professor of Physical Education Larry McClements, who will be retiring this year, has spent 24 years of his career at Bethel University, pouring into the students who have come through Bethel's Physical Education and Kinesiology programs. As he began to think about retirement, he wanted to leave something behind to both honor graduates who have gone on to pursue advanced degrees, and inspire future students to aim high in their career pursuits.

Currently, about 100 students are Kinesiology majors, including health/physical education, exercise science, sports studies, sport management and pre-physical therapy. With the help of his Administration and Organization of Physical Education and Recreation (KINE 460) class, he began to conceptualize what would become the Kinesiology Wall of Fame.

He says the class completely took on the project as an assignment. They did research on a long list of graduates, raised $1,600 for materials, and actually constructed the display, which hangs in the wall across from his office, in Wiekamp Athletic Center.
"From 2011-2021, 24 students from Kinesiology majors have gone on to earn doctoral degrees, and 49 students have gone on to earn master's degrees," McClements says, adding that the earliest graduate to earn an Ed.D. (in 2003) was Physical Education major Lorne Oke '86.
McClements explains that the career possibilities for students in Kinesiology majors are broad – from medical doctors and physical therapists, to chiropractors, athletic trainers, occupational therapists, physician assistants, teachers, professors, scientists, exercise physiologists and more.

This year, three graduating seniors, all exercise science majors, have already been accepted to doctoral programs, including Grace Haley '21, (Central Michigan University, Physical Therapy); Kole Hanke '21 (Palmer College, Chiropractic); and Nicole Fosnough '21 (Nova Southeastern University, Physical Therapy).

"I personally think it's a great honor to congratulate former students who have gone to graduate school and are making an impact on the world with Christian attitudes and do so to glorify God," says Hanke, who helped with the wall of fame project.

"I immediately thought of what an amazing idea it was," adds Haley, who worked on the wall as well. "It definitely inspires me … and will certainly motivate me as I continue through my studies."

McClements looks back on his career and says it's been amazing. He, along with wall of famers, were honored in a recognition dinner on April 24, and many of the students whose lives he touched came back to see him.
His goal has been to help students "see their God-given talents and show them they're capable of it."