Faculty & Staff News – Fall 2021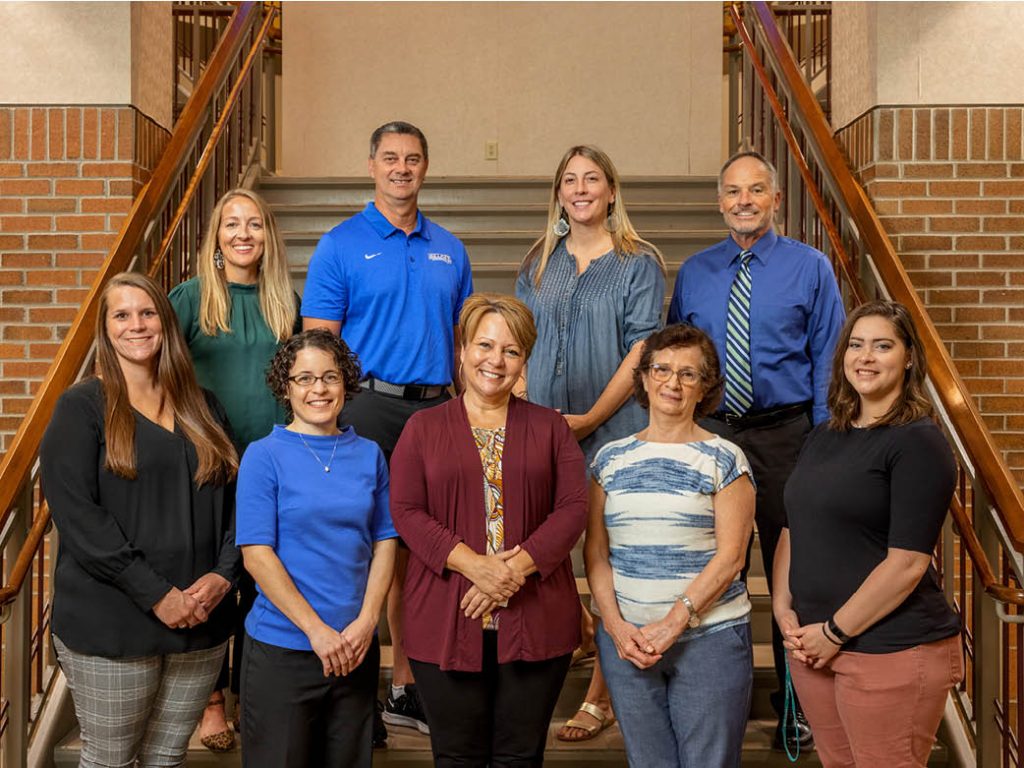 Prenkert Named Dean of Humanities and Social Sciences
Robby Prenkert '92, D.Litt., has been named Dean of Humanities and Social Sciences at Bethel University, a role he began July 1. Prenkert has served the university for 25 years, most recently as Chair, Literature & Language Studies; Associate Professor of English & Humanities; and First Year Experience (FYE) Coordinator. Prior to his faculty position, Prenkert was a resident director, men's JV basketball coach, mentoring program coordinator and adjunct faculty.

Prenkert is an alumnus of Bethel University, with a B.A. in English. He earned his master's degree in Intercultural Studies from Wheaton College and his doctorate (D.Litt.) from Drew University. He is also licensed as a minister in the Missionary Church denomination.

Prenkert has served as associate editor of Reflections (a publication of the Missionary Church Historical Society) since 2001, and as faculty advisor of Crossings (Bethel's literary magazine) from 2004-2012. Selected professional affiliations include Christians for Biblical Equity, the Modern Language Association, and the Conference on Christianity and Literature, among others. He has also published and presented on his experience as a missionary in Jamaica and his practices as a teacher of writing and literature as a means of discipleship and spiritual formation.
New Positions/Promotions
Lifase Bilima has been hired as the Coordinator of the Field Scholar Program, where she is responsible for recruiting and shepherding Field Scholar students. She previously served as a music teacher at Great Lakes Montessori School of St. Joseph, Mich., and spent time mentoring young adults in the community.

Christine Dickinson has been promoted to associate director of admission recruitment. In this role, she oversees counselors, the acceptance process for incoming students, and works with the admission leadership team to create strategies to increase enrollment and evaluate trends in higher education. She previously served as Admissions Operations Assistant at Bethel.

Hudson Farrell was hired for the newly created position of Multimedia and Video Content Specialist, where he works to produce video content for enrollment, student life and marketing and communications projects. A graduate of Taylor University, he spent a semester in L.A. where he worked at a camera rental house and production company, and helped produce a GEICO commercial. You can see one of his most recent pieces at BethelUniversity.edu/Magazine.

Richia (RJ) Jennings, M.A., LMHC, has been hired as associate director of counseling services, overseeing mental health services at the Wellness Center. She previously worked as a Regional Clinical Supervisor for Lifeline Youth & Family Service, and as a counselor at Grace College and Theological Seminary. Her specialized areas of expertise are trauma and addictions.
Retirements/Departures
Sally Erdel, associate professor of nursing, has retired after 27 years of service. Her expertise in nursing education and her love for the profession helped to establish the high-quality reputation of Bethel's nursing programs today.

Bob Hartman, carpenter, retired after serving Bethel for 10 years.

Cynthia Jackson, custodian, retired after serving Bethel for 16 years.

Susan Williams, administrative assistant for academic services, has left Bethel to help care for her triplet grandchildren, after 12 years of service.
Ramos Honored as Professor of the Year
Alice Ramos, Ph.D., associate professor of mathematics and chair of the department of mathematical and engineering sciences, was named professor of the year for 2021 and honored at Bethel University's commencement ceremonies in May. In excerpts from her nomination, she is described as "a testament to the perseverance and hope resulting for a sure and tested faith;" "the glue that holds the math and math education majors together;" and "having an exceptional command of the material she teaches."
Meister Featured in New Strobel Book
Chad Meister, Ph.D., professor of philosophy and chair of religion and philosophy, was featured in The Case for Heaven, a new book by New York Times bestselling author Lee Strobel. In the book, Strobel interviews respected scholars and experts about evidence for Heaven. Meister approaches the subject of heaven from a philosophical perspective, presenting the six layers of evidence that represent the Apologetics Pyramid: truth, worldviews, theism, revelation, resurrection, gospel. "Meister's unique heaven pyramid had provided a sturdy foundation for trusting what Jesus taught about eternal life," Strobel says at the conclusion of the chapter. You can learn more and download an excerpt of the book at LeeStrobel.com.
Doctorates Earned
Cami Brubaker '06, '14, Ph.D., earned her doctorate in Biblical Studies, Old Testament and Hebrew, from Lutheran School of Theology at Chicago. Her dissertation was entitled, "They Sow Wind and Reap Storm: Resowing Seeds of the Deed-Destiny Nexus in Proverbs and Hosea." Her committee voted to confer the degree with distinction and observed that the dissertation makes a significant contribution to Old Testament Studies, especially in the area of Wisdom Literature. Brubaker is adjunct professor of Old Testament and Hebrew at Bethel.

Jacquelyn Szalmasagi '10, '17, D.N.P., adjunct professor of nursing, graduated with her Doctorate of Nursing Practice from IUPUI.