Steady at the Helm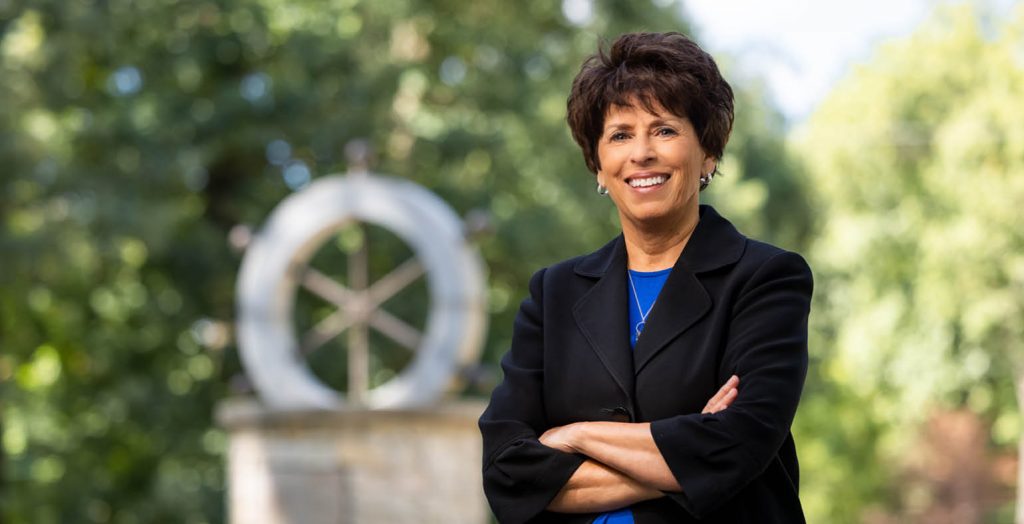 For Barb Bellefeuille, Ed.D., interim president at Bethel University, saying yes to God's plan has been a hallmark of her career. So, when she was first approached by the Board of Trustees about taking on the top executive role at Bethel, she immediately began praying and deeply contemplating the decision.

Bellefeuille had faithfully served as Vice President for Academic Services at Bethel for nine years, overseeing all academic-related functions of the university, from hiring and developing faculty, reviewing and implementing academic programs, to creating a vision for meeting the challenges facing higher education.

"For stability, we needed continuity," Bellefeuille says. "I was approached about the interim position – I wanted to keep Bethel stable and steady. I went to my spiritual mentors and there was a positive response. I was seeking God to ensure it was Him pushing for this – and there wasn't any reason why not."

Bellefeuille was unanimously affirmed by the Board of Trustees and began her new role June 1, 2021.
"Dr. Bellefeuille has proven herself to be a steady and consistent leader, and the board has full confidence she will continue to serve Bethel well during this transition," says chairman Eric Kinsman.
Bellefeuille has spent her entire career in education, starting as a public middle school teacher for 13 years. She first experienced life changing Christian higher education during her undergraduate work at Columbia International University (formerly Columbia Bible College) in Columbia, S.C. Completing a master's degree in Education at Reformed Theological Seminary, in Jackson, Miss., further fanned into flame a desire to always align biblical thinking with any profession.

"I just got a fire lit within me," Bellefeuille says. "Understanding teaching from a biblical perspective was so much richer than just getting a degree."

She realized how much life-changing influence professors have over undergraduate students and began to feel a desire to train up future K-12 teachers to seek God's will at the center of their personal and professional lives. After getting her master's degree, she went on to pursue her doctorate at Virginia Tech with the goal of going into Christian higher education. She quickly began to see answered prayers, doors opening and God confirming He was preparing her.

She applied at Toccoa Falls College in Toccoa Falls, Ga., and was hired. After serving there for 21 years, with roles including department chair and chair of significant committees, assistant vice president, vice president, and eventually acting CEO for a year, she came to Bethel in 2012.

"I fell in love with teaching men and women who wanted to be in the classroom – to train them to think from a Godward perspective," she says.
Bellefeuille is now the first female to serve in the highest leadership role in Bethel University's 74-year history. In her career, she's watched the progression of women in the workplace, and has blazed a trail of her own – serving as the first female chair, vice president and acting CEO at Toccoa Falls College, and the second female vice president at Bethel University.

"Women and men often approach issues from different points of view – I believe God means for us to balance each other," she says, adding that she and her colleagues are able to share different perspectives, which is highly effective.
As she looks to Bethel's future, she continues to say yes to God by remaining steadfastly committed to the university's mission, choosing John 3:30 as the biblical and campus focus for the year. "He must increase, but I must decrease," she says.
Bethel Career Highlights
• Guided the development of new academic majors – both for on-campus and online programs.
• Undertook two major curricula reviews and guided accreditation renewal process with the Higher Learning Commission.
• Led a significant revamping of the academic calendar, classroom procedures and communication processes for faculty, students and academic administration amid the COVID-19 pandemic.
• Served for the past two years as Chair of the Commission of Chief Academic Officers of the national Council of Christian Colleges and Universities (CCCU).
Bellefeuille lives on a small hobby farm with two other professional women, and enjoys taking care of her dog, JoJo Jolly, her horse Timber and two miniature donkeys – Jack and Rudy. Moving to the Midwest to serve Bethel eventually gave the opportunity to help care for her mother, Arbutus, who now has advanced Alzheimer's. She and her sisters split time caring for her.

"True religion is this – to care for the widows and orphans. It's exhausting, but it's beautiful," says Bellefeuille.

See a video from President Bellefeuille.