Sunset of Maralee Crandon and Tim Erdel's Block 3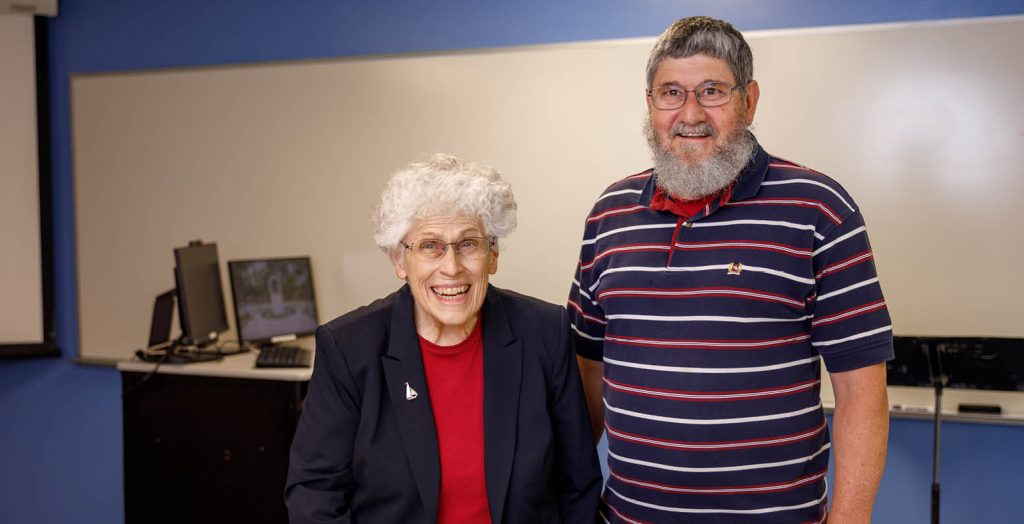 Ever since Bethel's First Year Experience (FYE) block program was introduced in 1994, Maralee Crandon, Ph.D., associate professor of English and speech, and Brother Tim Erdel, professor of religion and philosophy, have been leading Block 3 side by side. In that time, they've cultivated a classroom experience that transforms first-year students from peers into family. After 28 years, the 2021-22 school year marks the final year of co-teaching Block 3 for Crandon and
Erdel.

FYE, Bethel's number one retention tool, is a program for incoming first-year students, consisting of two core classes that are co-taught by two professors. The students are divided into Blocks 1-12, who spend Tuesdays and Thursdays together in the classroom. Outside of class, blocks are encouraged to spend time together, allowing for a unique bonding experience that eases the transition to college life.

"One of the things we try to instill in our students is that you don't get through college alone," explains Crandon.

Crandon and Erdel both began their higher education careers in 1977; Crandon was hired by Bethel College and Erdel by McCormick Theological Seminary. Their block teaching routine took time as they learned how to co-teach a class, but with 28 years behind them, the two can now finish each other's sentences.

"We're like an old stand-up comedy routine," laughs Erdel.

Block 3 originally co-taught Written Communication III, paired with New Testament Literature from 1994-1999. Today, they co-teach Speech Communication and Exploring the Christian Faith.

"It's really been our intent to try to uphold each other as we're teaching, and to make sure that our [students] are challenged spiritually as well as intellectually," says Crandon.
From 1994 through 2021, Block 3 has tallied a total of 806 students. "Every group has its own dynamic. Every year has its own dynamic," says Erdel.

Overall, the group has been known to travel and explore together, including over 40 trips to Shakespearean plays, for which both Crandon and Erdel have an affinity. Other notable trips include the 2011 May Term England trip, as well as a 2002 excursion to Stratford, Ontario, which was miraculously funded through a car wash fundraiser, a series of providential gifts and matching grants.

While the students in Block 3 grow to be like family, that dynamic has gone to the next level. Since 1996, there have been more than 30 marriages between Block 3 alumni, and over 50 "Block 3 grandchildren" (children born to or fostered/adopted by Block 3 couples).

Crandon and Erdel are the only teaching partners who have stayed together over the whole history of FYE. "We're enthused about teaching together," says Crandon. "It's just been really remarkable to teach with someone for 28 years and look forward to every single day that you get to teach together."

"I have learned so much from Brother Tim. I call him the walking encyclopedia … or maybe two or three encyclopedias," jokes Crandon.

Erdel chimes in, "I have learned so much from Maralee as a teacher. I have never met anyone so in tune to the classroom dynamics."

Crandon and Erdel look back on their time as Block 3 professors with gratitude and joy and are thankful for the home and family that Bethel has become.