Campus News – Spring 2022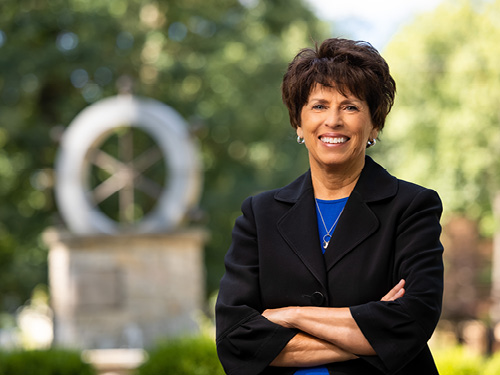 Bellefeuille Named Eighth President
Barbara Bellefeuille, Ed.D., was officially named the eighth president of Bethel University on March 10, 2022. Bellefeuille served as interim president since June 1, 2021, and is the first female to hold the university's highest leadership role.

The presidential search committee strongly recommended Bellefeuille's appointment, and on March 7, 2022, the Bethel University Board of Trustees unanimously voted to appoint Bellefeuille to the permanent role. The general oversight committee of the Missionary Church denomination ratified the appointment on March 9, 2022.

Bellefeuille has served at Bethel University since 2012, spending almost nine years as Vice President for Academic Services, and the past nine months in the interim president role.
"I am humbled and also thrilled by this appointment to serve as Bethel University's eighth president. For 75 years, Bethel University has prepared men and women in a variety of vocations, but all have been uniformly educated in biblical truth. I am determined to continue and, even strengthen, this focus: nothing else interests me," Bellefeuille says. "Together with the Bethel leadership, the Trustees and the Missionary Church we will advance our mission to transform communities through Christ-centered graduates!" Read the full release.

Bethel Welcomes Students for Admitted Student Day
March 17-18, Bethel University welcomed future Pilots and their families to campus for Admitted Student Day. During this two-day event, students were immersed in Bethel University life, meeting future classmates, signing up for their first two Bethel classes and having a lot of fun! Learn more about BU, schedule a visit or request information online.

Bethel University Observes Collegiate Day of Prayer
On Feb. 24, Bethel University observed Collegiate Day of Prayer, a time when generations of prayer warriors across the nation join in covering college campuses in prayer and praying for revival. Activities were held in the Shiloh Prayer Chapel throughout the day, including group prayer gatherings, and guided prompts allowed alumni and friends to join campus in prayer and reflection. 

Bethel University Honors Legacy of Dr. Martin Luther King, Jr.
On Jan. 17, Bethel University's Diversity, Equity and Inclusion Council held an event to honor the life and legacy of Dr. Martin Luther King, Jr. The day began with chapel in the Everest-Rohrer Fine Arts Center/Chapel – Auditorium, followed by guided prayer led by local pastors in the Everest-Rohrer Rotunda. Also, a pop-in style activity focused on prayers for unity, reconciliation and peace, which was also held in the Rotunda. During this time, the community had the opportunity to create an artistic physical representation of their prayers by writing them on colored paper and placing them on large light-up archways, which resembled the stained-glass windows of King, Jr.'s church, Ebenezer Baptist.

Bethel University Receives $1 Million Gift from Local Business Owner, Alumnus
Bethel University recently received a $1 million gift from the Mely and Rick Rey Foundation Inc. Rick, a 1977 graduate of Bethel University, owns Specialty Products and Polymers Inc., Niles, Mich. The business was founded in 1995 as a silicone custom mixing company dedicated to quick turnaround times and excellent customer service. The gift from the Reys supports four areas they are passionate about – long-term funding through an endowment, support of international students, scholarships and the chemistry department. Read more.

Bethel Women's Golf Wins Program's First Team National Championship
The Women's Golf Team made Bethel history with the program's first team national championship, defeating the field by 44 strokes with a final round 314. Jessica Shurety ran away from the field with a 74 in her final round to take home individual medalist honors with a nine-over 225 in the 54-hole tournament, nine strokes ahead of the pack. Shurety, Taeyon Kwon, Katie Blauw, and Maria Pardo Victori all earned NCCAA All-American honors while Head Coach Christopher Hess was named the NCCAA National Coach of the Year – the first of his career. Learn more.

Students De-stress During Finals with Kittens from All 4 Animals Rescue
The Bethel University Center for Academic Success provided a variety of activities, including "kitten therapy" courtesy of All 4 Animals Rescue (A4A), to help students de-stress during finals week. The kittens were available to pet, hold and play with in the Miller-Moore Academic Center. Free massages were offered in the Academic Center and anti-anxiety activities were available in the Learning Commons. More animals were available for stress relief throughout the week, and Christmas cookies and popcorn were in various locations around campus.  

Bethel University Music Department presents 73rd Annual Christmas Concert
In December, the Bethel University Music Department presented its 73rd Annual Christmas Concert, Repeat the Sounding Joy! This annual welcome to the Christmas season featured the Concert Choir, Voices of Triumph, Chamber Orchestra, Percussion Ensemble, Jazz Combo, Wind Ensemble and dance troupe Spirit in Motion. Inspiring performances, along with candles and carols, made the Christmas concert an event for the whole family.

Bethel Hosts President's Christmas Dinner
In December, Bethel hosted the Founder's Society (donors whose giving exceeds $500 annually), the Heritage Roll of Honor (donors who have included Bethel in their will or estate plan) and Scholarship Society (donors who have established an endowed scholarship) at the President's Christmas Dinner. This group includes over 600 alumni and friends; 150 attended the event. Four awards were presented, honoring Charles and Joyce Boxman '63, Sam '77 and Faye Davenport '97, Kay Lawrence '67 and Jeremy Mann '18.

Bethel University Offers Free Boot Camps in Cloud Computing
Bethel University is offering free boot camps in cloud computing basics and services. These camps, funded through the LIFT Workforce Accelerator Grant, help equip Michiana's information technology (IT) community to understand cloud technology, ultimately preparing them to analyze the different advanced cloud options for companies and move forward toward a career in cloud computing. Mini Boot Camps (Boot Camp 0) took place in the fall and spring, with Boot Camps 0 and 1 planned for summer 2022. Learn more.