Robots Bring Lean Manufacturing to Bethel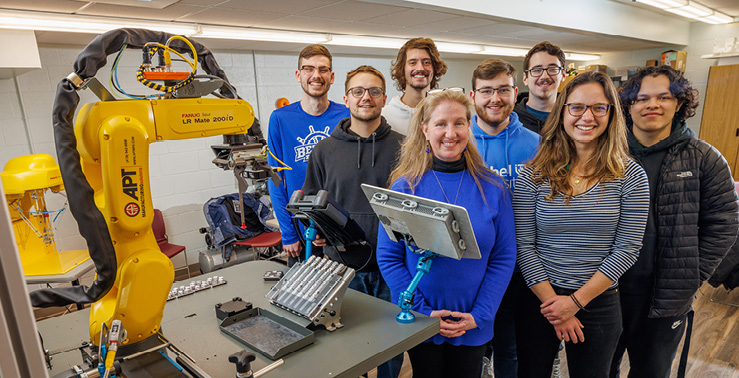 Bethel University engineering students now have access to two new teaching tools, which can be found on the lower level of the Middleton Hall of Science. They power up, can be programmed, and one even demonstrates automation. They are robots, like those used by engineers in manufacturing processes.

Purchase of the robots was made possible through a $250,000 Labs for Industry Futures and Transformation (LIFT) Workforce Accelerator grant, allowing for greater educational opportunities related to science, technology, engineering and math (STEM). Bethel used part of these funds to purchase the robots and make updates to the engineering lab, with the goal of better preparing current Bethel students to meet industry needs, with a focus on Lean Manufacturing. The University also created two courses for the Engineering and Management degree.
"Local industry indicated their greatest need is for graduates to understand how to solve problems and apply Lean Manufacturing concepts," says Sheri Campeau, assistant professor of engineering at Bethel, who spent 20 years of her career as an engineer for General Motors.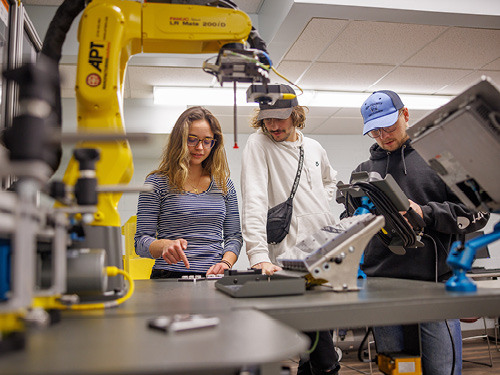 She explains that Lean Manufacturing is all about increasing efficiency, exposing problems and fixing the system. In today's world, that increased efficiency includes technology, such as robots.

"This [lab] expands exploration for students and brings the technology to them," she says.

Evan Brown, a junior business management major, thinks he might go into supply chain management. He signed up for the Lean Manufacturing course to get a hands-on look at what happens in industry.

"I want to bring Christ-centered ideas into different spaces. In any position, I want to be able to understand all aspects [of the organization] and build relationships," he says.

Through exploration with the robots and field trips to local manufacturing plants, students are gaining greater understanding of how to bridge the gap between engineers, workers and leadership.

Peter Campeau, a sophomore 3/2 Engineering major, (where students spend three years at Bethel getting a math/science degree and two years at the University of Notre Dame or Trine University studying engineering), plans to go into mechanical engineering. He says experiences with robots in the lab introduces automation – something he will encounter in industry that he hasn't been able to experience before now.

"It will be helpful in interviews and jobs if I have experience in engineering and robots. I've already worked through the hard part of how it works, what it does, troubleshooting," he says.
Sheri Campeau agrees. "A great benefit for students is just being comfortable with technology and able to understand and apply it," she says.

She has taken her Intro to Engineering classes on field trips to SonSet Solutions in Elkhart, where she serves on the board. It's a mission organization that uses engineering and technology principles for the cause of Christ, developing tools to help people. In fact, one Bethel engineering and management alumnus, Bryan Jackson '21, is currently raising support to be a missionary engineer with the company.

In the engineering lab, Moana Martins, an international student who was born in Germany but grew up in Brazil, brings a unique perspective to the class. She transferred to Bethel to play tennis and study engineering. She says both the field trips to manufacturing plants and experience with robots have rounded out her education.

"It gives me a little insight into what happens on a larger scale," she says.

Eventually, Bethel hopes to open up classes to the local community. But for now, students are enjoying exploring Lean Manufacturing in a hands-on way through this new course.

"We are able to do the course because of the robots," Sheri Campeau says.