Training the Local Community in Cloud Computing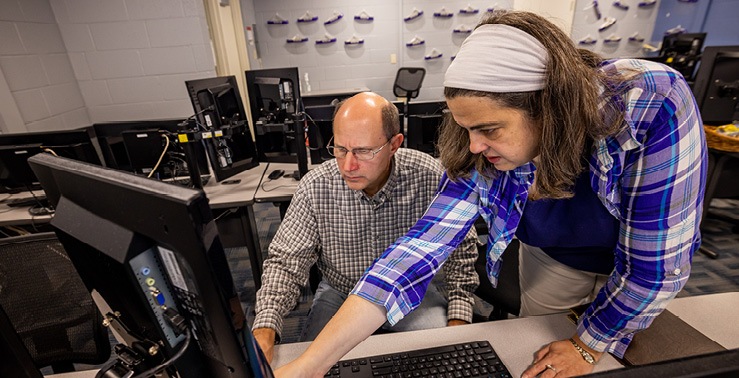 Since Fall 2021, Bethel University has been offering free boot camps in cloud computing basics and services to members of the Michiana community. These camps, funded through the Labs for Industry Futures and Transformation (LIFT) Workforce Accelerator Grant, are focused on equipping the local information technology (IT) community to understand cloud technology, ultimately preparing them to analyze the different advanced cloud options for companies and move toward a career in cloud computing.
The first boot camps offered were Mini Boot Camps, where course work introduced computing in the cloud, data science and machine learning in the cloud. These classes are geared toward people already working in IT, data science or machine learning.
Nearly 20 individuals attended the course, representing a variety of local businesses, including Korhorn Financial, Beacon Health System, YMCA of Greater Fort Wayne, Sibley Machine, Ivy Tech, ZimmerBiomet, Forte Residential, the University of Notre Dame, GTA Containers, Talcs, and Trinity Information Services.
"This educational series provided a solid overview of the basics of cloud computing, from the purpose of the cloud to various sample implementations, including infrastructure, platform and software services, as well as informative sections on big data and machine learning," says Dan Bundus, data developer specialist at Trinity Information Services. "[It is] a helpful course for those seeking a better understanding of the digital stratosphere."
Bethel plans to hold a Boot Camp 0 and a Boot Camp 1.0 in the summer of 2022. Boot Camp 0 is an opportunity for high school students and the under- or unemployed to start with an introduction to computer programming and be introduced to cloud computing, big data and machine learning.
Completion of Boot Camp 0 prepares an individual for Boot Camp 1.0, which will further explore the cloud. The ultimate goal of these specialized training courses is to equip individuals in IT foundations, Google Cloud certification preparation and studies of the three major cloud services (AWS, Azure and Google).
Cathy Bareiss, Ph.D., professor of computer science at Bethel University, looks forward to how these boot camps will invest in the local tech community. "We are continuing to build bridges to others in the community to widen the impact of these boot camps."