Using Science to Help Others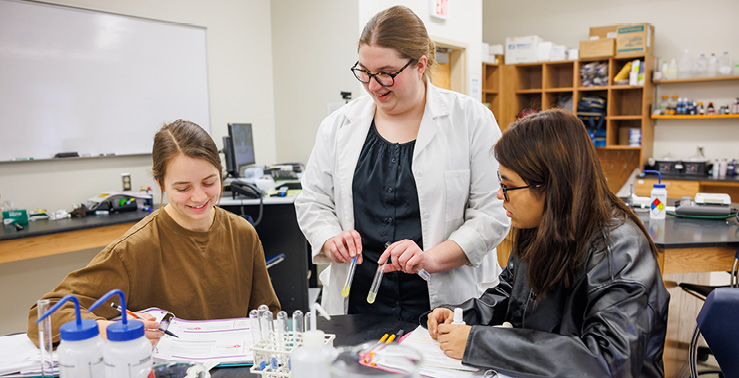 "Dr. Kroa was a great mentor for life issues and navigating the professional landscape, helping me find my way in STEM," expresses Miller.
Miller wasted no time in her pursuit to help others. She spent the next five years at the University of Notre Dame, studying synthetic biology and its applications in the field of analytical chemistry, under the biochemistry department lab of Holly Goodson, Ph.D., and Marya Lieberman, Ph.D., research professors at Notre Dame. Miller earned her Ph.D. in biochemistry, with her dissertation titled, "Development of Yeast-Based Biosensors for Pharmaceutical Analysis in Technology-Limited Settings."

"In other words, [it is] a way to monitor pharmaceutical quality in low- and middle-income countries to make sure they're not receiving counterfeit or no-longer-active drugs," Miller explains.

Miller genetically engineered yeast to detect the presence of certain hormones or antibiotics in the pharmaceuticals, testing the quality of the drugs. She explained the yeast can then be dried on paper strips and made portable "so you can place [the yeast] into some liquid with the drug and it's all self-contained in little paper strips."
This technology could allow customs agents, hospitals or pharmacies to make sure they're sourcing good pharmaceuticals.

Miller began her current position as assistant professor of biochemistry at Bethel in August 2020. She is grateful that Bethel cultivates a teaching environment where students are mentored on more than just the subject matter.
"I've always seen my work in the lab or classroom as an opportunity to teach about God," says Miller. "I get to help my students see that they can bring glory to God through their study of the natural world and use their career as a vocation to influence and speak into peoples' lives."
In the classroom, Miller focuses on the common goal of her department: helping students know and understand the subject matter while learning how faith can be integrated into the science they are studying.

With diverse faith backgrounds within STEM, Miller sees the STEM world as a mission field. STEM creates a framework for common experience that opens doors for faith conversations. She says, "Faith influences the types of questions we choose to ask in science."