75 Years of God's Faithfulness
From its founding, Bethel University has been covered in prayer and sustained by faith. In the fall of 1947, Bethel opened its doors to the first class of students, just six months after breaking ground on what is now the Huffman Administration Building.
"The story of Bethel really began 139 years ago with the founding of the Missionary Church [then Mennonite Brethren in Christ]," says Dennis Engbrecht, Ph.D., former senior vice president and history professor at Bethel and author of "With Christ at the Helm, The Story of Bethel College."
"There was a desire to educate Christian workers. [Church leader] J.A. Huffman was a champion for higher education and long-time advocate for a denominational college," Engbrecht says.
Though poor in resources, Bethel's founders, Quinton J. Everest, Seth Rohrer and Warren Manges, were rich in faith. In a note found with the minutes from the 1947 board meeting, there was a handwritten prayer, entitled "College Administration-Goals" (believed to be written by then president-elect Woodrow Goodman):
In a prayer on February 11, 1947 I felt constrained to ask of the Lord $500,000 to be given to the school in cash within the next five years. Also within that time secure my earned doctor's degree. At the same time I pray that God will give us wisdom to use this money wisely and our training well.

I believe that if Jesus tarries, God will do this for us. [My] present resources: $6.75 in cash, a house and car and personal property with $6,100 in obligations and needs tremendous. The school fund has at last report $6,500 in the bank, $35,000 property, with $15,000 obligation. The chairman of the board [Quinton Everest] has recently overdrawn his account at the bank. …

Dear Lord,

In faith that thou has called us to this work and this work into being, we proceed to Thee belongeth the increase of the praise.

In Christ, Amen*
"They had incredible faith," Engbrecht says. "Bethel has always needed students, finances, faculty — God has often given us the need before He's given us the answer."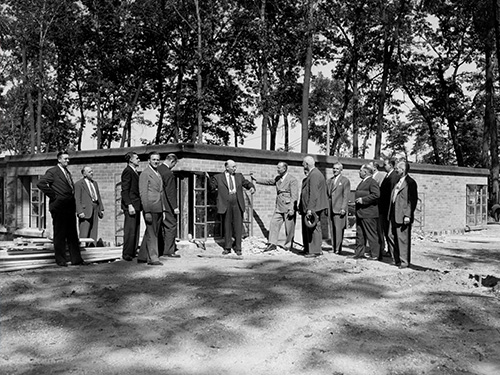 But funding was provided to establish the college, and as the decades passed, Bethel grew to include more students, majors and buildings, all with the missional focus of building lives of commitment for leadership in the Church and the world … to challenge the mind, enlarge the vision and equip the whole person for lifelong service.
Athletics began with a men's basketball team in 1959, followed by women's athletics in 1973. Accreditation came in 1971, and with it, national credibility. Historic additions to campus included the Goodman Gymnasium in 1957 (with bricks laid by students), the Middleton Hall of Science in 1964, the Dining Commons in 1977, the Bowen Library in 1984, the Everest-Rohrer Chapel/Fine Arts Center in 1997, the Miller-Moore Academic Center in 2000, the Pannabecker Science Wing and Bridges Hall in 2007, the Van and Jean Gates Welcome Center in 2020, and the Lehman Family Training Center in 2021, among others.
In its 75 years, Bethel has experienced triumphs of revival, record enrollment, program additions — like education, nursing, adult studies and the recent extension studies program (BU-X), and a name change to university in 2019. But it has also weathered storms, including an enrollment dip in the 1980s that nearly closed Bethel's doors, the Great Recession of 2008, and the recent COVID-19 pandemic.
"Throughout Bethel's history, there has been ongoing need, crisis moments and pouring out of blessing," Engbrecht says.
From its humble beginnings, Bethel today is an accredited, nationally-ranked Christian liberal arts university with associate, bachelor's and master's degrees in over 50 areas of study and 20,000 alumni who reside in 64 nations around the world. They are living out the mission of the founders to
transform communities through Christ-centered graduates.
What was printed in the January 23, 1948 issue of the Beacon (student newspaper) echoes a desire for the next 75 years — to continue to educate students so they can be a beacon of light and hope for Christ in their chosen professions.
"Bethel College has been established through the goodness of God and for the purpose of glorifying Him. We are expecting Bethel to be a lighthouse for God that will shed its rays far and near, guiding safely into the harbor countless souls that would otherwise perish in spiritual shipwreck." – Beacon, January 23, 1948**
*Excerpt from "With Christ at the Helm: The Story of Bethel College," p. 53.
**Excerpt from "With Christ at the Helm: The Story of Bethel College," p. 59.
Bethel's Presidents 1947-2022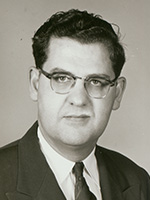 Then
First day of classes Sept. 22, 1947
87 students enrolled
13 faculty members
Now
First day of classes Aug. 18, 2022
1,290+ students enrolled
106 faculty members