Academic Excellence Spurs Spiritual and Character Growth in Athletics
Following the '21-'22 school year, the NAIA announced 17 Bethel athletic teams (five men's and 12 women's) as NAIA Scholar Teams. To receive this distinction, teams must maintain at least an average 3.0 GPA and include every varsity athlete certified as eligible in the sport and listed on any eligibility certificate submitted during the academic year.
"There's a chain of accountability in the areas of full rosters, academics, spiritual development and being competitive: coaches are held accountable, and students are held accountable by coaches. We look for students to buy in to everything we do — spiritually, athletically and academically," says Athletic Director Tony Natali. "Christ calls us to be excellent in all we do."
Student-athletes experience character development in their academic studies, which ultimately flows back into their respective sports.
"Our Bethel student-athletes use their work ethic and desire to succeed in the classroom in the athletic arena. These positive attributes of time management, desire to succeed, and overcoming adversity in the classroom directly correlate to the playing court," says Steve Drabyn, Men's Basketball head coach.
With academic excellence as a long-standing expectation in Bethel athletics, coaches have seen character and spiritual growth.
"Students encounter a caring environment in the classroom, on the field, in the dining [commons], in the dorms and across many different places in a way that opens minds and hearts to grow," says Men's Soccer Head Coach Thiago Pinto '05, '07. "For almost two decades, I have witnessed many students become better students and grow into servant leaders — becoming men ready to be a Christ-like influence in the world."
It is that long-term impact that is ultimately what drives Bethel athletics, not just the wins and the losses.
"Some students starting on scholarships may be at risk academically, or they come in searching spiritually, and we see significant improvement by the time they are graduating," Natali says. "We strive to instill character and refine work ethic, and most importantly, by the time they graduate, we hope they have accepted Christ or made a decision to develop their spiritual life. It's such a gratifying thing to see spiritual growth in our athletes."
Women's Scholar Teams
Basketball
Bowling
Cross Country
Golf
Indoor Track & Field
Lacrosse
Outdoor Track & Field
Soccer
Softball
Swimming & Diving
Tennis
Volleyball
Men's Scholar Teams
Baseball
Basketball
Golf
Soccer
Swimming & Diving
Six Athletes Named CSCAA Scholar All-Americans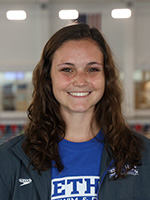 In addition to scholar-team recognition, six athletes on the BU Swimming & Diving Team have been recognized as CSCAA Scholar All-Americans by the College Swimming Coaches Association of America. In order to be awarded a Scholar All-American, the student-athlete must have achieved a 3.5 or higher GPA and participated in the NAIA National meet. These athletes are Josefina Gonzalez, Kayla Logeais, Javier Ronda, Vivienne Kunkler, Emma McClelland, and Ignacio Vinagre.