Bethel Celebrates 25 Years in Everest-Rohrer with Record-Setting Show

Bethel University presented Disney's "Beauty and the Beast" as the spring 2022 musical, inviting theatre alumni to join in on the production. Presented over two weekends, the show was a huge success, bringing in two sold-out school day performances for field trips and homeschool groups, in addition to record-setting evening crowds. The theatre department also hosted an alumni event before one of the shows, as well as a sold-out Belle's Tea where VIPs (very important princes and princesses) were invited to have lunch and tea with the musical's main character, Princess Belle.
"Welcoming alumni back for a performance was a great experience for the entire theatre department," says Becky Branch, administrative assistant for the art and music departments.
"The alumni cast members brought amazing talent to the group. They interacted with the students outside of rehearsals, building real relationships with them, intentionally sharing their experiences from the professional theatre world," Branch continues. "Many of our students were very inspired by the kindness of our alumni, as well as their humor."
This year marks 25 years of the Everest-Rohrer Chapel/Fine Arts Center (ER). Ever since its foundation, the building has made a lasting impact on the Bethel arts community and campus as a whole.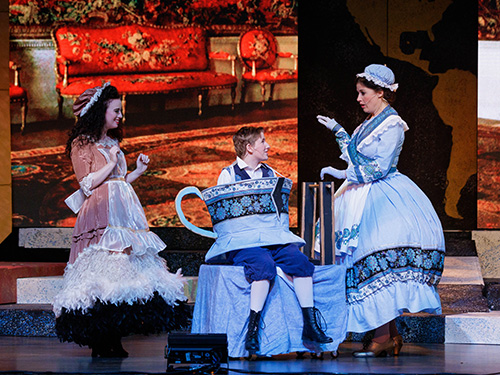 "My freshman year I took piano lessons in an office in Goodman gymnasium. Jazz Band and one of my music classes was in the barn. Music theory was in the science building. Music students didn't have a home," reflects Branch. "Then my sophomore year I was in the ER. We had a choir room, offices and practice rooms with pianos! We had a home and an official theatre program. It created a central space for collaboration, encouragement and enjoyment."
Branch considers the spiritual significance of the auditorium as the university's gathering place for chapel. "Many eternal decisions have been made there. Many journeys have started there. Many wounds healed. Many brick walls torn down," she says. "Whether through song, word, scripture, performances, repentance, reconciliation, education, the ER has had so many landmark moments."