Bethel Gala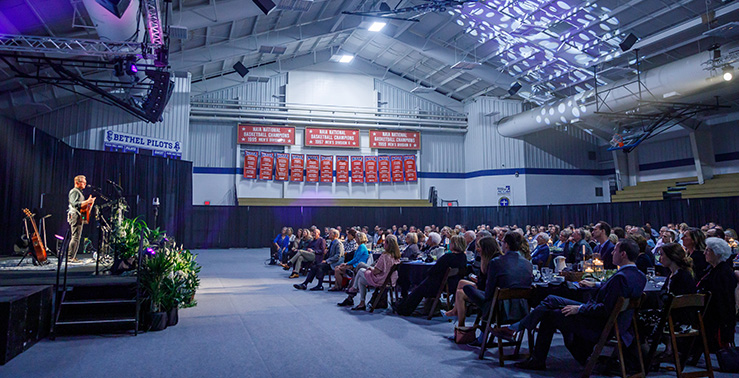 Bethel University's fifth annual Bethel Gala, with special guest Steven Curtis Chapman, took place Saturday, April 30, 2022. The gala celebrated the 75th anniversary of Bethel University, honoring our legacy and continued commitment to transforming communities.
$138,942 was raised to support student scholarships and areas of greatest need.
Letters to the Founders
During the gala, two students, Life Granville, an accounting and finance major from Texas, and Vladlena Klymova, a criminal justice and business major from Ukraine, as well as alumnua Karleen Hallock, read "Letters to the Founders" during the event, where they reflected on the past and looked ahead to the next 75 years.
"Thank you for starting without knowing how it will end, or how it will persist — or even if it would. Trusting God in this situation is more impressive than what we can imagine. You had a lot of courage. And now Bethel has extended beyond your vision and has touched beyond your own culture and nation, transforming people with worldwide influence!" Kylmova said.
"I don't know exactly what I will do after I graduate next year — but I think I eventually want to start a business with my passions of basketball training and mentorship. Your story encourages me that I don't have to have everything figured out to take steps of obedience and see God do something crazy. And I know that a lot has been given, and a lot has been sacrificed for me to receive an opportunity here — so who am I to go from here and not do something for God's Kingdom?!" said Granville.
"Founders … your initial dream has been multiplied beyond what I believe you ever imagined it could become. As a result of our time at Bethel, graduates like me are going out into the community and the world to become leaders of influence who make a difference for Christ," said Hallock.
Vsit BethelUniversity.edu/Give to invest in Bethel's future.