Building Relationships in the College Decision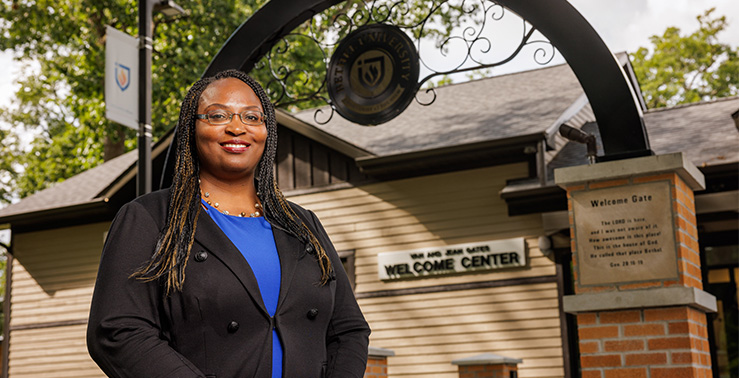 Amanda Slaughter, Bethel's new vice president for enrollment management, believes a campus visit is key to discovering if a college is the right fit for a student.
"I just felt called here," Slaughter explains. "Many of our families and students feel this way when they visit."
Slaughter most recently served as associate vice president of university enrollment at Biola University, in La Miranda, Calif., where she led and developed a team of 90+ professionals and 130+ student workers. She began her role at Bethel on May 23, leading Bethel University teams in Traditional Admissions, Adult & Graduate Studies Admissions, Financial Aid, and Enrollment Marketing. Since then, she has focused on a four-prong approach to recruitment: partnering with marketing, focusing on strategic recruitment, positioning affordability and utilizing the existing community for referrals.
Slaughter's team at Bethel has completely reworked the financial aid process to help students realize that Bethel is an option for them, especially for those with low expected family contribution and high need.
"The students we missed aren't here because of cost. For those students [with limited expected family contribution], we are more affordable — but they're not even seeing us as an option. Our team is working to make financial aid more accessible, to help them see Bethel as an affordable option."
Her team is hosting financial aid nights at high schools and churches to reach parents and students with this message. Slaughter's own educational journey came in a nontraditional way. In fact, there was a time she didn't see college as a reality for herself.
"I didn't graduate from high school traditionally," she says. "I worked at my church for two years as a receptionist, did home school and got a delayed diploma. I actually went to night school to help a friend but ended up going on to college. People saw leadership in me."
As a young, female vice president who is also a person of color, Slaughter is hoping to help students and families realize the potential of a Bethel education.
"Many people are excited that I represent change to them — being a person of color, they see themselves in me," she says. "At the end of the day, admissions is about building relationships with students and families in their college decision. God brings people to Bethel — I want them to know this is a great option to consider."
Schedule your campus visit today at BethelUniversity.edu/Visit.
About Amanda Slaughter
Amanda Slaughter is an enrollment management professional with more than 18 years of experience in higher education, working with undergraduate traditional, nontraditional and graduate students through enrollment, financial aid, career services and student retention at CCCU (Council for Christian Colleges and Universities) institutions in California, Pennsylvania and Mississippi. Slaughter is a graduate of Biola University with a B.A. in Journalism, Public Relations Emphasis, and minor in Biblical Studies. She earned her master's degree in Higher Education, Student Affairs Concentration, at Geneva College. She is married to Andrew, a therapist, and they have one son together named Jonathan.