Campus News – Fall 2022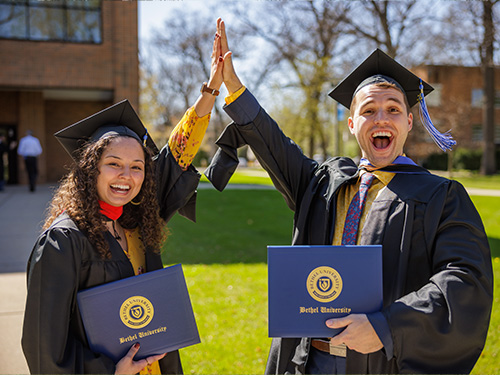 Bethel Celebrates 75th Commencement
This year, nearly 320 students graduated from Bethel University. The 2022 commencement ceremony was held Saturday, May 7, in the Wiekamp Athletic Center on Bethel's campus. This single ceremony at 2 p.m., included traditional undergraduate, adult and graduate programs. Shirley Hoogstra, president of the Council for Christian Colleges & Universities, was the speaker.

Women's Track & Field Team Wins 2022 Outdoor National Championship
Bethel Women's Track & Field finished the final day of the NCCAA National Championship at the top of the standings for the program's eighth national title and third outdoor banner in three straight completed seasons (2020 championships were cancelled due to COVID-19). This brings the Pilots' total team national championships to 45 for all sports. All three individual national championship performances on the day — Madison Kauffman in Hammer Throw, Jada Parzygnot in Pole Vault, and MarKalah Barnes in Shot Put — hit NAIA standards, as did the podium finish for the 4x100m Relay.

Bethel Offers Athletic and Academic Summer Camps for Kids
This summer, Bethel University offered its annual academic and sports summer camps for kids. Academic camps provided campers from ages 9-14 the chance to explore their interests with college professors, instructors and leaders who channeled their knowledge into a fun, hands-on learning experience. Academic camps in science, theatre and art included musical theatre, culinary chemistry, studio arts and more. Sports camps, directed by Bethel coaches, included basketball, soccer, cheer, lacrosse, track and field, volleyball and more.

Bethel Offers Two Free Summer Boot Camps in Cloud Computing
Bethel University offered two free boot camps in cloud computing this summer. These camps, funded through the LIFT Workforce Accelerator Grant, helped equip Michiana's information technology (IT) community to understand cloud technology, ultimately preparing them to analyze the different advanced cloud options for companies and move forward toward a career in cloud computing.

Bethel University Hosts Private College Week, July 18-22
Bethel University was one of Indiana's 29 private, nonprofit colleges to offer special visits to students and families as part of Indiana Private College Week, which ran July 18 through July 22. Prospective students and their families interested in the college selection process experienced the unique personalities of each campus through tours, informational sessions, and conversations with current students and staff. Bethel offered a special 21st Century Scholar Pilot Preview Day on July 20. Programming was designed to help students complete the requirements of the Scholar Success Program, which includes 12 college-prep activities such as visiting a campus, estimating college costs, searching for scholarships, and submitting a college application.

Bethel Hosts Missionary Church Hispanic Conference
July 19-22, Bethel hosted the Missionary Church Hispanic/Latino National Conference on campus, for pastors, leaders and their families, with the theme, "God's Presence and Power to disciple the Nations." More than 300 people attended from the United States, Central and South America, Hawaii and even Israel. During the conference, attendees worshipped together, prayed together, shared testimonies, and invited the Bethel community to take part. Leaders from the Missionary Church, World Partners, Bethel University, local and regional pastors shared their passion for God and the miracles they have witnessed. The conference was the dream of Pastor Jose Mendez, who serves the Missionary Church as the Assistant Director of Cultural Ministries, and Dr. Barb Bellefeuille, president of Bethel University. A Meet and Greet with Interim President of the Missionary Church and Bethel Trustee Jimmy Santiago, and Missionary Church Vice President Rodney Arnold, took place July 21 for faculty and staff.

Bethel Hosts 10th Annual Pastor's Prayer Walk
Approximately 30 pastors came to campus Aug. 19 to pray over Bethel and its people prior to the first chapel of the school year. Representatives from the Missionary Church denominational office in Ft. Wayne, as well as other districts and local pastors, were in attendance. They split into groups and prayed with departments, outside of dorms and around buildings, covering the campus in prayer. The pastors attended chapel and enjoyed lunch after.

Bethel University Holds Inauguration for President Barbara K. Bellefeuille, Ed.D.
Bethel University inaugurated Barbara K. Bellefeuille, Ed.D., as its eighth president on Saturday, Sept. 10, at 10 a.m. in the Everest-Rohrer Chapel/Fine Arts Center — Auditorium on Bethel's campus. Bob Laurent, Ph.D., former Bethel University professor, and current teaching pastor at Granger Community Church, spoke. Luminos, an a capella group started by Bethel University alumni, performed. A luncheon for delegates and special guests followed the ceremony, with a reception for faculty, staff and students on Sept. 12.

Bethel Partners with Everence for Annual Service Day
Bethel University's 33rd annual campus-wide Service Day took place on Tues., Sept. 27. Sponsored in part by Everence, Bethel students, faculty, staff served together throughout Michiana. The day started in the Everest-Rohrer Chapel/Fine Arts Center on Bethel's campus, where individuals divided into groups and left campus to volunteer at more than 40 sites at various local organizations. South Bend Schools assisted with transportation to the work sites, which included Center for the Homeless, the Foodbank of Northern Indiana, Transformation Ministries, the City of Mishawaka-Parks Department, Hope Ministries, the Humane Society of St Joseph County, Potawatomi Zoo, and the Family Justice Center of St. Joseph County, among others.

Men's Volleyball Program Launches
The Men's Volleyball program launched in fall 2022 with a roster bringing 19 new student-athletes to Bethel. Head Coach Eric Snyder came to Bethel after a successful tenure at Campbellsville University in Kentucky. As a men's volleyball coach at Campbellsville, Snyder has a record of 110-15 and a record of 125-104 as a women's coach.

National Recognition for Bethel University
For the 19th consecutive year, Bethel University has been recognized on the U.S. News Best Colleges list. For 2023, Bethel was ranked among the Midwest's Best Regional Universities, and was distinguished in the top 20 for social mobility.
For more Bethel news, visit our website – BethelUniversity.edu/News.