Faithfulness in Giving
Throughout Bethel's 75-year history, the university has depended on the generosity of faithful supporters to fund student scholarships and areas of immediate need through the Bethel Fund, as well as capital projects, like buildings and program expansions. There are many ways individuals can get involved in giving and serving during their lifetime, and there are also ways to make a gift that will leave a legacy for generations to come.
"People often make an impact by giving during their lifetime, but they leave a legacy when they pass on," says Brent LaVigne, Ph.D., vice president for institutional advancement at Bethel. "So few people get to see that legacy while they're living — but we get to experience that at Bethel. We get to see that legacy live on."
The simple act of including Bethel in an individual's estate can leave a legacy for generations to come.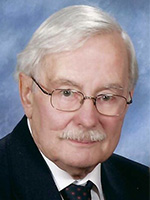 Dr. Douglas Wilson is one such example of a legacy left behind for others to see. A well-known and highly respected OBGYN in Mishawaka, Ind., he dedicated his career to caring for women and babies in the community. Dr. Wilson started giving to Bethel in 1988 and gave nearly $1,000 per year, faithfully, during his lifetime. Upon his death in 2021, he left a significant gift to the university in his estate, which will continue his legacy for years to come.
"He faithfully gave to what mattered to him while he was living — and he also made a continuation of that commitment in his estate," says LaVigne. "This gift meets both an immediate need for students scholarships, and also continues to support families through education for years to come."
Dr. Wilson was a faithful supporter of the Bethel Fund, and helped bridge the financial gap for students through scholarships. He also helped sustain the campus by supporting beautification projects through the years.
Like Dr. Wilson, those who have made a provision for Bethel in their will, or by deferred gift, are named to the Heritage Roll of Honor and invited to the President's Christmas Reception each year. Bethel also honors faithful giving through the Founder's Society, which consists of individuals who contribute donations of $500 or more in a calendar year.
Whether it be $5 or $500, each gift is important to the university, because Bethel depends on gifts to support students and sustain the campus.
Learn more by visiting BethelUniversity.edu/Give, or contact Brent LaVigne at Brent.LaVigne@BethelUniversity.edu.
Celebrating 35+ Years of Giving
Bruce and Michelle Beyler
LaVerne and Loretta Blowers
Charlie and Joyce Boxman
David and Janet Buck
Douglas and Darlene Chapman
David G. Chart
Colonial Woods Missionary Church
Steve and Terri Cramer
Dennis and Karla Engbrecht
Harlan and Karen Gingrich
Charlie Habegger
Kapaa Missionary Church
Koontz Lake Missionary Church
Randy and Deb Lehman
Luther and Linda Lehman
Richard and Esther Matteson
Nappanee Missionary Church
Dennis and Eva Pannabecker
Lester and Velma Rassi
St. Mark Missionary Church
Ron and Nancy Stump
Walt and Carolyn Weldy
Julie Yoder
Keith and Virginia Yoder
See the full list of legacy givers at BethelUniversity.edu/Legacy.