Go. Serve. Play.
Volleyball Team Unites on Trip to Dominican Republic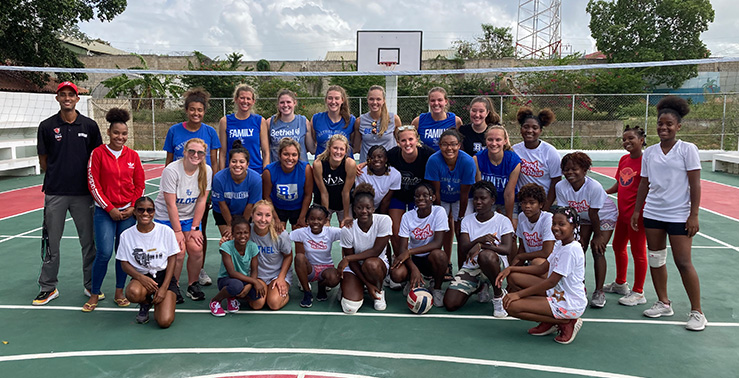 Junior nursing major Maddy Payne remembers the moment she sat down next to a quiet little boy and looked out at her volleyball team, playing with children from a village they were visiting on a mission trip to the Dominican Republic. She couldn't engage the child in conversation — they spoke different languages — but just her presence spoke volumes.
"It was the first time in such a long time I saw such joy on everyone's faces. They weren't worried about what was going on at home … or classes … or the next match … they were just present in that moment. It was amazing to see the full glory of God with those kids — just playing and having fun."
Payne and the team were in the Dominican Republic with Score International, an organization that creates customized mission trips to engage, equip and evangelize people across all nations (score-international.com). For part of the trip, the team served, and for the part of the trip, they put on volleyball clinics and played in matches — including one against the Dominican Republic's Junior National Team, whom they swept in three, as well as club teams.
For Head Coach Katie Weiss '01, the trip was a homecoming of sorts. Weiss and her family had served in the Dominican Republic as missionaries for a year in 2014. For this trip, her husband, Dan '99, daughter, Hanah, a Bethel sophomore and volleyball player, and son, David, were able to come, too.
"[As missionaries in the Dominican Republic] we came alongside a pastor of three churches, Quina, and developed a youth program, basketball ministry with a local gym and worked with students at schools," Weiss says. "On the last day of this [Bethel] trip, we went to Mocha and saw our people, and how that work has continued."
On this summer's trip, the team spent the mornings serving and the afternoons putting on clinics or playing matches. One of the team's favorite parts was visiting orphanages and playing with kids.
"We spent time coloring, drawing, singing, sharing testimonies and praying. We allowed the kids to braid our hair. They loved doing that," Weiss says.
For Payne, time spent with kids was also particularly meaningful. "It was really hot, but the girls we were playing in clinics with were so excited, they didn't even want to stop for a drink of water," Payne says. "It was a good reminder to see that passion for the sport. It reignited my passion!"
The trip also inspired the players spiritually and united the team like nothing else can.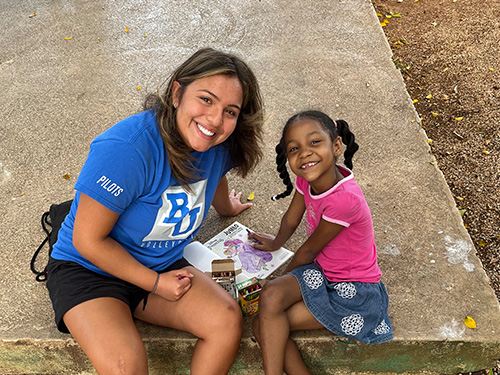 "I go back to the moment of everyone playing with kids. [A mission trip] forces you to be in a place for one week where nothing else matters — it's your team, and Jesus and these people. To be in a place where everyone was being impacted spiritually. I saw girls who never cry, cry — it provides a bond that no one else can say that they have with my teammates," Payne says.
Weiss agrees that this trip reinforced what BU athletics is all about — glorifying God through sport. "What better way to start a year than [through] a mission trip?" she says.