Small Start, Big Opportunity
When Cameron Nagle '22 launched his podcast, Starting Small, in the basement of his Indiana home, he never expected here it would take him. Nagle began interviewing CEOs, founders and entrepreneurs at the beginning of the COVID-19 pandemic, discussing the stories of how their organizations and businesses were created from the ground up, with the goal of reminding listeners that even the biggest brands started small. The podcast also focuses on sharing brand development and marketing knowledge.
In the summer of 2021, Nagle set his sights on hosting a summit that would bring his podcast audience into the same room as his podcast guests. He pitched the idea to Lori Stutzman, Ph.D., associate professor of business at Bethel University. "There's no better partner than Bethel to do so. I didn't have the bandwidth [to do it by] myself," he says.
Amid summit planning, Nagle interviewed investor and entrepreneur Patrick Schwarzenegger (son of Arnold Schwarzenegger) on Starting Small in October 2021. Schwarzenegger had recently launched a protein bar startup called MOSH, which he co-founded with his mother, renowned journalist and part of the Kennedy family, Maria Shriver.
After that interview, Schwarzenegger commended Nagle on his ethics and drive at such a young age. Nagle says Schwarzenegger told him, "When you graduate, let me know, I want to hire you." Nagle was honored by the offer but focused on the summit and his senior year of college.
The summit built with each planning meeting. "When I first pitched the idea, it was one speaker, maybe in a lecture hall. We began to add speakers, and I envisioned it getting bigger as we began to meet more and more," Nagle recalls.
The first-ever Starting Small Summit launched on April 13, 2022, on the Everest-Rohrer stage at Bethel. People from local businesses joined Bethel staff and students in attending the summit, where Nagle moderated live interviews with Joe Foster, founder of Reebok; Stacy Madison, founder of Stacy's Pita Chips and BeBOLD Bars; and Dr. Jonathan B. Levine, founder of JBL New York City & GLO Science.
Nagle reflects on Foster flying in from London for the event, "Watching his work and knowing his history, and seeing him arrive in my hometown, was surreal."
That same night, Nagle received a text from Schwarzenegger which read, "Hey, how are you doing man? Are you ready to join us?"
Appreciative of Schwarzenegger's persistence, Nagle still had another month left in school and had not planned to move across the country afterward. The idea faded as Nagle graduated, yet Schwarzenegger contacted him again, this time with an official offer.
"I was the third internal hire for the company MOSH," Nagle explains. "I accepted the offer in May and on June 13, I flew out to Los Angeles and joined the company."
Nagle works as the digital marketing manager at MOSH. With his other two coworkers being top talent executives from Welch's and Nestlé, and taking the position right out of college, Nagle says he has learned the technical side of the
job quickly. "The experience level is so incredible. It's been great to be a part of that atmosphere every day."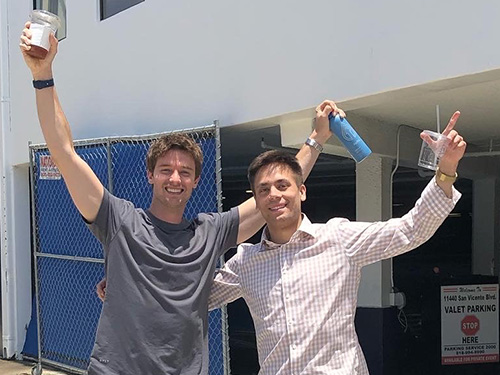 As new opportunities arise from Starting Small connections, Nagle plans to keep the podcast at the forefront, continuing the Starting Small Summit. "I hope to scale the summit to a touring-type setup where I can host it at other
universities … we can bring in speakers from their hometowns at a consistent and scalable basis," he explains.
Other plans for Starting Small include creating a media company that hosts a network of shows focused on music, sports, entertainment, and more, with Nagle equipping other hosts to lead those platforms. Whatever heights Starting Small reaches, Nagle hopes to lean on his faith to keep him grounded.
"My faith has pushed me and motivated me to achieve what I want to achieve in my field, but at a humble level," he says, "keeping God at the forefront of all."