Sports Updates – Fall 2022
MEN'S CROSS COUNTRY
The Pilots look to improve upon a second-place finish in the NCCAA National Championship. They lose their top runner Trevor Miller and Jacob Ropp but return Alex Arce who was in the top three runners for the Pilots last season.
WOMEN'S CROSS COUNTRY
Top runners Megan Cooper (19:39 5k) and Emma Cougill (19:52) return for the 2022 season. Bethel had a last place finish in the Crossroads League Championship and a third-place finish in the NCCAA National Championship, but did not qualify for the NAIA National Championship last season.
MEN'S SOCCER
Men's soccer is now 13-1-1 and holds a commanding lead in the Crossroads League (6-0). The Pilots look to improve upon a Crossroads League Championship and a run to the National Tournament last season.
WOMEN'S SOCCER
Women's soccer continues to improve overall (5-5-4) and is in the midst of Crossroads League play (1-4-1). Audrey Lerch leads the offense and was named NAIA Offensive Player of the Week.
WOMEN'S VOLLEYBALL
Women's volleyball (18-7) is battling for a top spot in Crossroads League play (10-3). Head Coach Katie Weiss brings back many from last season: Isabelle North-Greene, Madyson Beaver and Maddy Payne.
MEN'S VOLLEYBALL
The program will start its Inaugural season in 2023 with head coach Eric Snyder, who came to Bethel after a successful tenure at Campbellsville University in Kentucky. As a men's volleyball coach at Campbellsville, Snyder a record of 110-15 and as a women's coach, his record is 125-104. Snyder has brought 19 new volleyball student-athletes to Bethel University.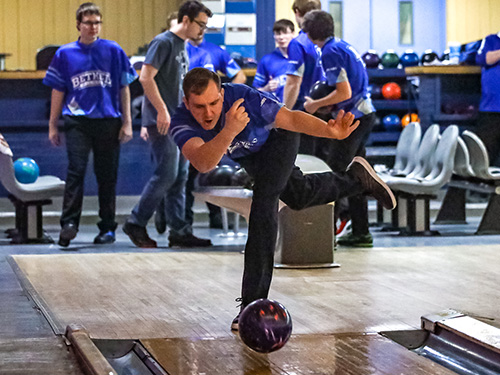 BOWLING
The men's team ended the season with a fifth-place finish in the Crossroads League Championship. This season will be a young roster with three freshman, one sophomore, two juniors and one senior. The women's season also ended with a fifth-place finish in the Crossroads League Championship. They will look similar to the Men's team with a young roster going into the season.
CHEER
Last season the cheer team took third in the Crossroads League Championship and fourth place finish in the Wildcat Invitational.
ESPORTS
The esports team is in its third season with Imanol Chavez (JR, Super Smash Bros.), Anthony Reyes (JR, League of Legends), Cannon Harris (SR, Rocket League) and Jon Duta (SO, Overwatch) being the players to watch this season.
WOMEN'S BASKETBALL
Last season was a young roster with five seniors and three juniors. Leading scorers Maiah Shelton (11.8 ppg) and Jazmen Watts (10.5 ppg) return to Mishawaka for their sophomore and junior seasons, respectively. The season started with Cornerstone (Mich.) on October 27 at home.
MEN'S BASKETBALL
The men's team has some new faces this year, including Drew Lutz, a senior guard transferring from NCAA D1 school Incarnate Word in Texas. Lutz is a Penn High School grad who came home for his senior season. The Pilots return two leading scorers from last season: Nathan Aerts (JR, 11.5 ppg) and Brandon Hunt (SO, 10.4 ppg).
WOMEN'S GOLF
The women's team received a preseason ranking of 20th under Taylor, ranked 16th, and Indiana Wesleyan, ranked 9th. The Lady Pilots won the NCCAA national tournament in Palm Coast, Fla., and took third in the Crossroads League Championship at Prairie View GC in Carmel, Ind. Bethel returns many from the Championship roster, including two-time NAIA and NCCAA All-American Jessica Shurety (SR), NCCAA All-Americans Katie Blauw (SR), and Taeyon Kwon (JR), and Maria Pardo Victori (JR).
MEN'S GOLF
The men look to improve on an 8th place finish in the Crossroads League Championship. Their top finish was a first place round at the NCCAA North Central Regional and a fifth place finish at the Battle at Blackthorn.
For up-to-date statistics and updates, visit the home of Bethel Pilots, BUPilots.com.
For the Record
TEAM
STATISTICIAN'S COMMENTS
Women's Outdoor
Track & Field
The Lady Pilots won the NCCAA National Championship as a team for the third straight year, with Individual NCCAA champions Madison Kauffman (JR, Hammer Throw), Jada Parzygnot (JR, Pole Vault), and MarKalah Barnes (JR, Shot Put). At the NAIA Championship in Gulf Shores, Ala., the team placed 70th. Parzygnot earned All-American honors.

Men's Outdoor
Track & Field
It was a successful outdoor spring season for the Pilots with a NCCAA National Championship runner-up finish. In the NAIA National Championship, Bethel tied for 22nd place. Individually, Thomas Jackson '22 won the NAIA in the Long Jump with a 7.65-meter jump and earned NAIA All-American status along with Shane Glasco (SR) in the High Jump (6th) and Elisha Fleming (SR) in the Decathlon (8th).

Baseball
The season ended with a 25-29 record overall and 19-17 Crossroads League finish. The Pilots split the US 20 Cup series 2-2 after being swept in the April 10 double header, then scoring a total of 25 runs the next day. The season concluded in the Crossroads League tournament, with losses to Huntington and Mount Vernon Nazarene.

Softball
The Lady Pilots ended the spring with a 10-34 record and 9-27 in Crossroads League play. Bethel went 1-7 in the spring trip to Kissimmee Fla., with a lone win over Lourdes 5-3. Quinn Slattman '22 was the top hitter for the lineup with a batting average of .308, 11 doubles and four home runs.

Women's
Lacrosse
It was a winning conference season in the WHAC, but the Lady Pilots finished the season 7-7 overall. Bethel ended the regular season with a four-game winning streak going into the WHAC tournament, losing to Indiana Tech 17-7. Hope Tempelman '22 was the team leader in goals with 52 and Jenna Crockett (SO) had 42 in the spring.

Swimming and Diving
There were seven swimmers who received CSCAA Scholar Athlete honors: Josefina Gonzales, Kayla Logeais, Vivienne Kunkler, Emma McClelland, Javier Ronda and Ignacio Vinagre. Logan Berndt finished with a 21.59 time in the 50 Freestyle at the NAIA National Championships. Vivienne Kunkler finished the season with a 25.25 time in the 50 Free in the NAIA National Championships.

Women's Tennis
The Lady Pilots went 5-3 in the spring indoor season. In Florida, Bethel played four matches, going 2-2, with wins over Ohio Northern and Northwestern (Minn.).

Men's Tennis
Wes Troyer '22 will be a key loss for the Pilots the season due to graduation. Troyer made it to the Singles B bracket Quarter Finals in the ITA Midwest regional in Marion, Ind.