Human Performance Lab Opens Up Opportunities for Kinesiology Students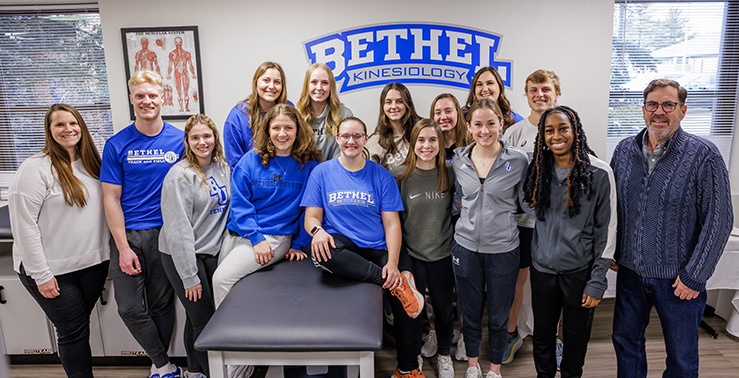 Off the back corner of Goodman Gymnasium is a newly-renovated, grant-funded space that is making a big difference for students in Bethel University's Kinesiology programs. Now nearly three times its former size, the Human Performance Lab features a large instruction room and a smaller VO2 Max testing lab with research-grade equipment.
The instruction room has taping and treatment tables and supplies for students to practice taping and assessment skills, a television and a space to teach functional movement. In the smaller lab, a 12-lead electrocardiogram (ECG) and treadmill show students firsthand how the body responds to exercise.

Senior Brenna Esh is an exercise science major who has already been accepted to an Athletic Training master's program at Franklin College in Franklin, Ind. When she took Bethel's Athletic Training class, she and her classmates practiced taping by sitting on classroom tables, which weren't the correct height and posed hygiene issues.
"I think [this new lab] is going to open up a lot of opportunities for people going into athletic training and occupational and physical therapy," she says. "It's a really nice space."
Already, the Human Assessment in Performance class has used the lab to assess the performance of the Men's Soccer Team, by putting them through the Bruce protocol, a predication test for the maximum rate of exertion.
"We did the baseline test after they had won the [NAIA] national championship and weren't training," says junior Chloe Crompton, an exercise science major who hopes to go into strength and conditioning. "We'll test them again after they've been conditioning this spring."
These types of real-world tests can show students, at the undergraduate level, how training impacts performance, better preparing them for careers and graduate school.
"The expansion of the lab and the new equipment will allow our students to have hands-on training to better prepare them for a variety of professions, from coaches to physical educators to any of the therapies," says Mary Estepp, department chair and assistant professor of kinesiology. "We will now have the ability to allow students to study the maximal oxygen utilization during intense exercise, using top-of-the-line equipment. The new space and equipment will allow students to implement strategies to increase an individual's fitness and health from the assessments they are performing."
Bethel's kinesiology department houses four majors including exercise science (pre-physical therapy), sport management, sport studies and health/physical education. In the last 12 years, nearly 30% of students graduating from these programs have gone on to earn master's or doctorate degrees; others have gone into coaching, personal training, group fitness and public health.
"No matter the major, all students are required to have an internship, which often opens doors for future careers," Estepp explains.
In the future, Bethel plans to offer neighborhood nights in the Human Performance Lab, open to the community, to teach about health and fitness topics.
"Bethel University is grateful for the support of the Judd Leighton Foundation to push forward the capacity of our Kinesiology program. This renovation increases the technology and space in which our students learn and practice. This growing program trains students to serve in many essential physical performance and therapy fields," said Brent LaVigne, vice president for institutional advancement.