Shiloh Prayer Chapel Renovated in Honor of Alumnus
When alumnus Nate Cole '02 passed away suddenly in February of 2021, his small group at St. Mark Missionary Church in Mishawaka, Ind., many of them Bethel alumni, immediately surrounded his wife Sarah (DeBeck) '02, and daughter Lydia, with support.
In December 2021, the group presented the idea of renovating the Shiloh Prayer Chapel in Nate's honor to Sarah. Shiloh held significance in Nate's life and spiritual growth, as well as in his and Sarah's relationship.
"Our [small] group had been thinking about ways we could honor Nate's legacy," says Julie Beam, Ph.D., dean of students at Bethel and friend of the Coles. "At the same time, I knew Bethel had been looking to renovate Shiloh. [It] seemed like a well-aligned space and history to celebrate and mark in memory of him."
As a student, Nate was a co-leader of SWAT (Spiritual Warfare Assault Team). He spent many hours praying over campus and fellow students in Shiloh during his college years. Sarah reflects that prayer was always a pivotal part of Nate's life. In fact, she learned that before the two began dating, he had spent his summer break praying for her.
As their lives went on, Sarah pursued a master's degree in counseling, followed by a career in social work. Nate studied math education and became a beloved middle school science teacher at St. Joseph Grade School in South Bend, Ind. He loved helping people, fixing things and being a dad and best friend to daughter Lydia. And he never stopped praying. Sarah says that Nate's journal has been a comfort
to her and a way to help her process her grief. At the dedication of the prayer chapel renovation, held on Feb. 26 on campus, she shared an excerpt, focused on 1 Timothy 6:11-16, which speaks of pursuing godliness and fighting for faith.
"It was overwhelming [to be back in Shiloh]. It did bring back memories and I just thought of how Nate would have felt so honored," Sarah says.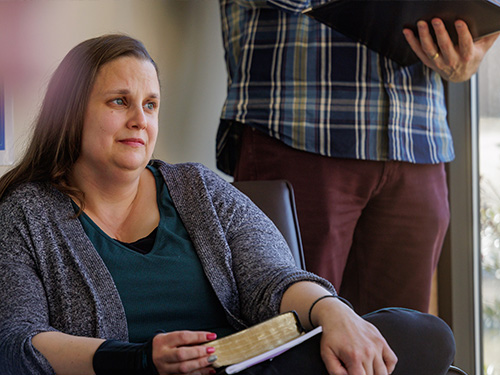 Not only did Nate and Sarah's small group come together to support the project, but so did the class of 2023, as their senior class gift, as well as other family members and friends.
"This project is an example of many small gifts coming together to make a collective impact," says Brent LaVigne, Ph.D., vice president for institutional advancement.
The hope of all who gave toward the project is that many more disciples will be made and lives changed in the Shiloh Prayer Chapel.