"Altars" Invites Students into Authentic Worship
Bethel worship arts launched its new album, "Altars," in September. What began as a song-writing class developed into a community of musicians whose goal is to reach their generation for Christ through song. "Altars" invites listeners into a pace of authentic worship, combining a variety of genres. Recorded at Omni Sound and Sound Kitchen in Nashville, Tenn., and produced by Billy Smiley, Terry Linhart, Ph.D., Jonathan Crone and Becki Graves '13, the album has eight songs.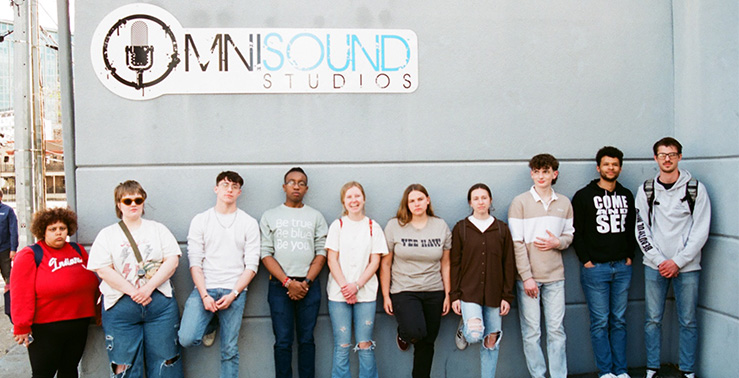 This is the fourth album for HCM (Helm Christian Media) Records, which was established in 2016 with the album "Anchor in the Undertow." "Altars" was the culmination of the semester-long work of the worship arts studio project class. Ten students – a combination of traditional undergraduate and BU-X (Bethel University Extension Studies) – participated and went to Nashville to record their music with Smiley; Linhart, executive director of BU-X; and Graves, Bethel director of worship arts.
Graves, who began leading the worship arts program in 2021, explains, "It was a unique offering – from January through May, the album was dreamed, written and recorded. From May to September, it was mixed and produced professionally. Students got to listen and offer feedback."
Both Graves and students expressed a spirit of unity as something unique about the project.
"This album is students speaking Jesus to each other, for their generation, in their own way," Graves says. "Students contributed uniquely and collectively."
Junior John Njihia, who is double majoring in worship arts and nursing, says, "One thing that I learned along the way was just how cool it is to be in a community of songwriters … You have an idea or a thought that comes to your mind and then you get to bounce that off of somebody else who takes that idea and expands on it, and then somebody else takes that idea and expands on it."
Junior Autumn Holtgren, who chose worship arts for her major because she has a passion for music and helping lead people into God's presence through music, says she had a great experience going to Nashville and collaborating with others to make the songs work.
"Music is very powerful," she says. "When words can't reach you, music can. You can sing a truth, sing a scripture. As a worship arts department, we can combine the two and help students sing the name of Jesus over every circumstance, even when they don't have the words to speak."
Njihia's song, "MOSAIC (I Have Decided)" explores the idea of renewing a decision to follow Jesus in the midst of doubt and feelings of unworthiness.
"There's that dichotomy of feeling all this fear of not knowing what you're about to walk into, but also knowing that in everything God is walking right beside you. And so, getting to share that vulnerable story is so cool," he says.
He explains that many of the songs on the album are originals that were created individually but developed collectively – each with a unique story behind the song.
"I think it's unique having a story come out of Bethel for the Bethel community … something that started more uniquely for somebody … now they get to share that with the Bethel community and we get to
make that part of our school's collective story."
Look for "Altars" and more from Bethel Worship Arts on Spotify, and follow their journey to Nashville on Instagram at Instagram.com/BethelWorshipArts.