Celebrating Bethel's 76th Commencement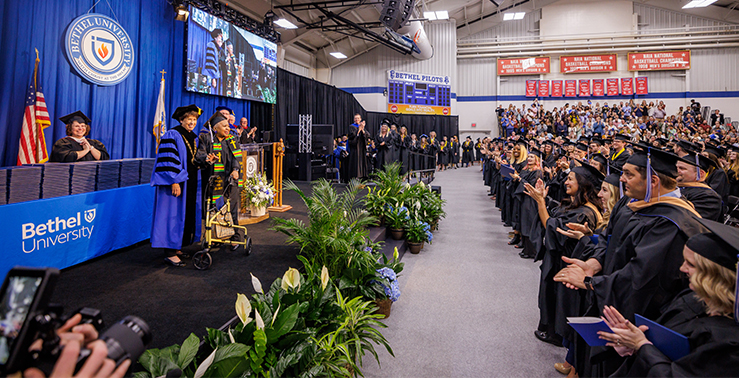 Bethel's 76th commencement was held on April 29, 2023, and though the weather was gloomy outside, the atmosphere in Gates Gymnasium was electric as 327 graduates gathered to receive their diplomas. As students filed in line and waited for their names to be read, the largest cheers (and a standing ovation) came as 81-year-old Janice Hall '23 walked across the stage (pictured above). Earning her bachelor's degree in organizational management, despite many setbacks, fulfilled a lifelong dream that is continuing as she pursues her master's in ministry at Bethel.
"My age and my disability have not defined me. There's much more for us to do, even as older individuals. We have wisdom that we can share with the younger generation," she said in an interview.
Other exciting moments included speaker Dave Engbrecht, Pastor at Large of Nappanee Missionary Church and Bethel trustee, receiving an honorary doctorate after sharing a commencement address
focused on catching God's vision for the future.
Additionally, former Associate Professor of Chemistry Beth Kroa, Ph.D., received the professor of the year award after being nominated by current students, former students and colleagues.
The ceremony concluded with a heartfelt address from student body president Myles Moser '23 and a blessing from Rev. Jim Keller '73, a member of Bethel's 50th anniversary class.