Pilots Play at Four Winds Field
On Oct. 3, 2023, the Bethel Pilots faced Indiana University South Bend Titans in the first-ever Bethel Baseball Classic at Four Winds Field, home of the South Bend Cubs. The entire event – from marketing to publicity, working with announcers, arranging food, games between innings and securing sponsors for prizes – was planned and managed by Bethel Kinesiology students. Additionally, 50% of funds raised through ticket sales went to Belle Wuich, a 14-year-old girl diagnosed with neuroblastoma cancer, to help with treatments.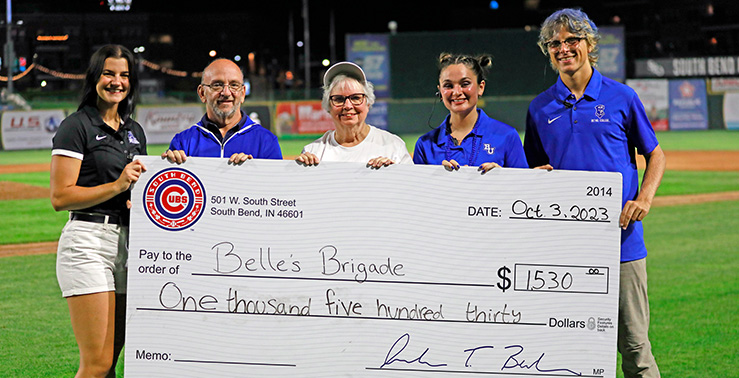 It was an idea that Kiel Boynton, assistant professor of kinesiology and assistant baseball coach, first had this summer. He had previously done something similar as a coach at Cedarville University and wondered if the same type of event could be replicated here in South Bend. When he contacted the South Bend Cubs, he got immediate support and began working out the details to make the event a success.
Boynton saw this event as one with great learning potential for his Administration and Organization class, an upper-level elective class for sports management majors. As part of their class assignments, students were responsible for running the event from start to finish. It gave them hands-on, practical sports management experience.
"We've had the South Bend Cubs come speak in class, and we've had complete access to the stadium," Boynton says. "It's been an incredible experience for students – everything I hoped it would be."
Meghan Pearson, a junior health and physical education major, served as an on-field host for the game and helped to plan on-field activities. She plans to be a P.E. teacher and eventually an athletic director.
"It was definitely a lot of work and preparation but seeing it all come together at the game … made all the stress and extra work pay off," she says.
The game has also provided an opportunity to give back, as ticket sales brought in $1,530 for Wuich, and players sported "Belle's Brigade" caps in support of her fight against cancer.
And, if that wasn't enough, the baseball team gained the experience of playing in a minor league stadium and won the game at the bottom of the ninth inning.
"It was a definite win-win on so many levels!" says Athletic Director Tony Natali.
Boynton hopes this will become an annual event for the Pilots.