Bearing God's Love on the Waterfront, Reflections of a Navy Chaplain
Navy Chaplain Lieutenant Commander Keith Madison Carter '07 felt called to ministry as a child. In the first decade of his life, he stuttered and had a lisp, but his mother, Alberta, refused to allow self-esteem issues to be a stumbling block and provided opportunities to overcome his fears of public speaking. While people often said he would "be a preacher," he brushed off the notion until college, when it became crystal clear God was calling him to preach.
In answer to his call, Carter pursued graduate school at Bethel University, but his perseverance was tested after losing his full-time job. Though degree aspirations seemed bleak, the Lord placed people in his life, including Bethel staff and faculty who "made it almost impossible to walk away from [school]," he says.
Because of this support, he earned his master's in ministry and a Master of Arts in Theological Studies from Bethel.
"I am here because prayer warriors put their fingerprints on me and prayed without ceasing. Every day I reflect on the sage and seasoned saints who fill my bucket," he says.
Carter went on to earn a Doctor of Ministry from United Theological Seminary and today serves as Squadron Chaplain for Destroyer Squadron Two Eight. Prior to that, he served as Deputy Director, Plans and Operations, and Deputy Director for Manpower in the Chief of Navy Chaplains office. He joined the Navy in 2006 through the Chaplain Candidate Program. Since then, he's served on the USS Tortuga (LSD 46), USS Howard (DDG 83), at The United States Naval Academy and at Marine Corps Forces Special Operations Command (MARSOC).
To Carter, being a chaplain means being a bearer of God's presence, from tactical ministry on the waterfront, to administrative responsibilities in The Pentagon (U.S. Department of Defense), and to a more strategic focus with the squadron. When offering encouragement to the men and women he works with, he remembers, "No matter who they are, no matter what they believe: God loves them," Carter says.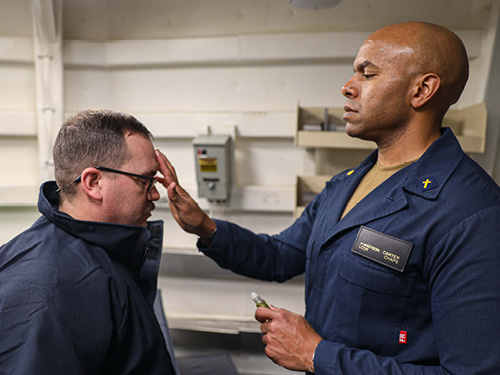 Carter tries each day to make eye contact with sailors letting them know he is in their corner. "I see my own children in their eyes, and I want them to know they are not alone." To him, military chaplains help service members "Face death well, live life better and fulfill their duties."
His focus is to remain tethered to his calling and create a sense of community for sailors.
"The Bible tells us that Moses went to his tent of meeting to be with God. I found ways to create my tents with God on ships at sea, with teams in combat, in driven office spaces and in helicopters hovering on flight decks or across war zones. I am determined to be a master tentmaker," Carter says.
Though working as a Naval chaplain is a dangerous field, Carter has amazing support from his wife, Brandi, and their five children. "They are my heartbeat," he says. He is also relentless in his determination to represent his mentors, coaches and trailblazers well.
"Every morning, there is a loved one praying for their sailor. They are asking God to put a hedge of protection around their sailor or Marine, because prayer goes places we cannot. There is a parent, classmate, sibling, church member, friend who wonders if their sailor is protected," Carter says, choking back tears. "If I can somehow be an answer to that prayer, then I did what God called me to do."
To anyone considering a similar line of work, Carter advises, "Enjoy the adventure. Never stop improving. Be true to who you are as a minister of the Gospel and avoid at all costs trying to shrink God's vision for your life into your own human desires."
As for his own adventure, God has been at work every step of the way. In overcoming his lisp, and fear of public speaking, graduating from Bethel University, starting his family and beginning his Navy career, he has seen God's hand.
"Everybody has a story to tell, and you cannot tell my story without mentioning God's sovereignty and grace," Carter says. "I cannot wait to see what God will do next. I'll go where he leads."
Bethel University will be launching a chaplaincy track for the Master of Arts in Ministry program in Fall 2022. See more details on our Bethel Updates page.