Bethel Highlights – Fall 2022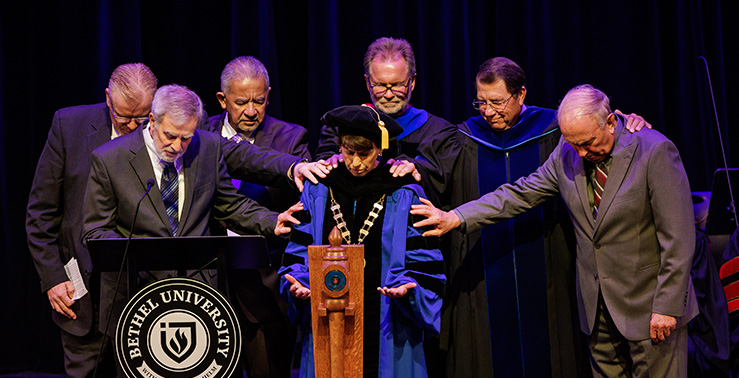 BARBARA K. BELLEFUILLE, ED.D., INAUGURATED
Barbara K. Bellefeuille, Ed.D., was inaugurated as Bethel University's eighth president, and first female president, on Sept., 10, 2022, in a ceremony focused on scripture and faithfulness. Read more.
BETHEL RECEIVES INDIANA YOUTH PROGRAMS ON CAMPUS (IYPC) GRANT
Bethel University was recently awarded $188,537 in grant dollars from Lilly Endowment Inc. through its initiative, Indiana Youth Programs on Campus (IPYC). These funds will be used to expand existing and add new on-campus academic summer camps in Nursing, STEM and culture. Learn more.
ATHLETIC TEAMS NAMED NAIA SCHOLAR TEAMS
Seventeen Bethel athletic teams (five men's and 12 women's) have been named NAIA Scholar Teams for the 2021-22 school year. To receive this distinction, teams must maintain at least an average 3.0 GPA and include every varsity athlete certified as eligible in the sport and listed on any eligibility certificate submitted during the academic year. Read more.
BETHEL LAUNCHES NEW MEN'S VOLLEYBALL PROGRAM
The Men's Volleyball program launched in fall 2022 with a roster bringing 19 new student-athletes to Bethel University. Head coach Eric Snyder came to Bethel after a successful tenure at Campbellsville University in Kentucky.
NATIONAL RECOGNITION
For the 19th consecutive year, Bethel University has been recognized on the U.S. News Best Colleges list. For 2023, Bethel is ranked among the Midwest's Best Regional Universities, distinguished in the top 20 for social mobility.