Next-Level Training
Audible gasps, tears of joy and excited chatter filled the entryway as sea of students – about 100 strong – filed into the $4 million Lehman Family Training Center in early February. These members of Bethel University's Men's and Women's Track and Field teams were the first to see the new 400-foot-long space they now call home.

Despite a lack of facilities, BU's Track and Field teams have, in recent years, managed to dominate competition with more National Christian College Athletic Association (NCCAA) team championships than any other BU sport (13 combined, men's and women's). They've also had numerous individual national champions, including Senior Sport Studies Major Thomas Jackson, who won the 2021 National Association of Intercollegiate Athletics (NAIA) Indoor National Championship in Long Jump.

"When this facility was finally ready and we got the 'welcome home' text, [it] brought tears to my eyes," says Jackson. "Not just me, but my current teammates and future teammates can finally feel the joy and excitement of having our own space."

This place has been a dream of Head Men's and Women's Track and Field Coach Danny Wilkerson for more than a decade. He, along with Athletic Director (and longtime Track and Field Coach) Tony Natali, led the charge in getting Track and Field alumni involved in funding the facility.
"[This] has been a game changer for us in terms of training and helping us further enhance the culture we have in the program," Wilkerson says. "As we always say, glorify God in your actions and the rest will take care of itself."
Track Team Reveal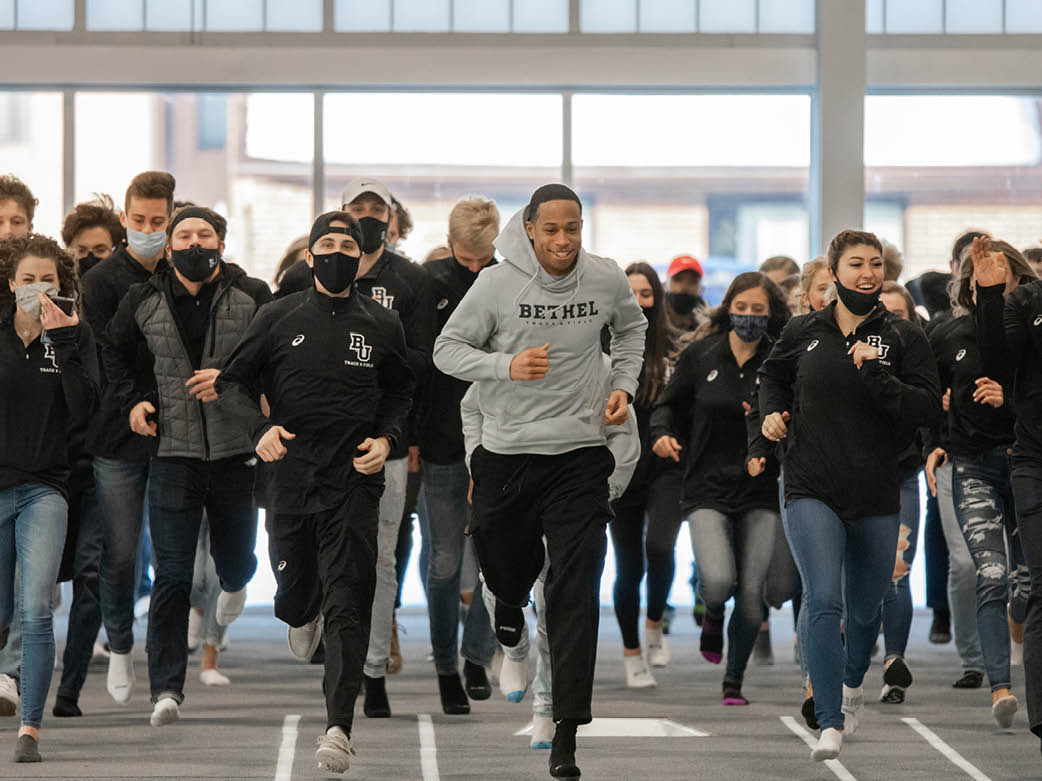 Built as part of Bethel University's GROW campaign, the center opened for student use in February, with open houses for students, faculty, staff and alumni, and a dedication April 23. The facility expands the southeast side of campus and sits on five acres of previously undeveloped land (part of a 13-acre parcel purchased more than a decade ago). In addition to being home to Bethel's national champion Track and Field teams, the space offers recreational opportunities for all students.

"It addresses a need identified in a 2018 student satisfaction survey, which concluded that half of traditional students were concerned with the quality and variety of exercise spaces on campus. Funds were raised in 2019, and construction continued throughout the 2020 pandemic year," says Vice President for Institutional Advancement Matt Lentsch, CFRE.

The building will be used for athletic development, supporting nearly 500 athletes in 30 sports and will provide resources for all students on campus. Its construction also opens up gym time previously used by Track and Field athletes, for expansion of athletic opportunities – like a Men's Volleyball program, which will launch competition in Fall 2022.

The building's large rectangular design (400 ft. long and 29 ft. high at its tallest point) was based on the European model of a "wind tunnel" training facility, of which few exist in the United States. It features six indoor running lanes that span 120 meters (with an outdoor straightaway stretching an additional 60 meters in four lanes and 120 meters in two lanes), a long jump pit, 3,150 ft. of turf for indoor throwing and two dedicated pole vault areas.

"Actually having a sand pit to practice in, more than 30 meters to run, being able to lift with most of my teammates, was something I've always wanted to do with my [track] family," Jackson says. "Honestly, I couldn't wait for the first practice after we got a chance to see everything inside."

Additional amenities of the Training Center include a large weightlifting and cardio area, equipped with high-speed treadmills and bicycles, and a community room with spin bikes and other group class equipment that can be used for group classes. The facility houses five offices for athletic coaches and one trainer, state-of-the-art anti-gravity treadmills (allowing student athletes to run while injured, at a reduced body weight), and two ice/hot baths. Additionally, it features specialized equipment in a rehabilitation area to help diagnose exercise and movement activities, such as running gait.

The facility also has common spaces for students to hang out between classes and workouts, including a mezzanine with a large screen TV, tables and soft seating for 30 people, laptop bar with seating and plenty of outlets for electronic devices, and a combination of stairs and bleachers – "sleachers" – for students to watch practice or relax. These have been invaluable to students.

"[Thank you] to all donors for believing in our potential and the importance of collegiate athletics in our lives," says Emma Mott, a senior exercise science major and nationally ranked distance runner. "They have provided us with a place that allows for physical and relational development."
The center is named after Randy '82 and Deb Lehman, who have been faithful supporters of Bethel University since 1985, volunteering resources to ensure needs are met and the vision of the university is supported. Randy has served on the Bethel University Board of Trustees since 2012, and is currently chairman. He is also an alumnus of Bethel University, who has been associated with Northwestern Mutual since 1983. Randy and Deb have been married since 1985 and reside in Fort Wayne, Ind. Deb is a retired Registered Nurse.