Campus News – Spring 2023
Bethel More Affordable for Indiana Residents
The Indiana State Budget Committee approved the Indiana Commission of Higher Education's request for the largest increase in state grant funds since 2008. Current and prospective students who are eligible for the Frank O'Bannon/Freedom of Choice Grant will receive an increased award, effective for the 2023-24 school year. Learn more and see how this impacts our students through sample award packages at BethelUniversity.edu/FinancialAid.
Bethel ranked No. 1 in Indiana by the College Affordability Guide, 2022
Bethel University was ranked No. 1 in Indiana on the College Affordability Guide, which analyzed 10 million data points from 7,000+ colleges and universities across the U.S. to find which colleges are doing the most to make a high-quality education affordable.
Bethel Hosts Go2BU, An Immersive Campus Visit Experience
Oct. 13-14, Bethel University hosted Go2BU, a 24-hour immersive campus visit experience. Designed for high school juniors, seniors and transfer students, this event enabled students to discover what it's like to be a Bethel Pilot by staying overnight, attending chapel, observing class and participating in Tip-Off Madness, our annual kick-off to basketball season. Over the course of the event, a variety of activities were available to students, including dorm activities, chapel, a first-year experience panel, a campus tour and sessions on scholarships. Look for the next Go2BU in October 2023.
Bethel Celebrates Homecoming with 75th Birthday Party
Homecoming weekend, held Sept. 30-Oct. 1, brought alumni and friends back to campus to participate in a variety of activities. Highlights included Alumni Chapel, celebrating our 2022 Alumni Award recipients, a "Rise'n Run" 5K, Reunion Village with food trucks and a birthday party for Bethel with cake and fireworks to cap off the weekend. See more.
Bethel Hosts Annual Lighting of the Pilot Lights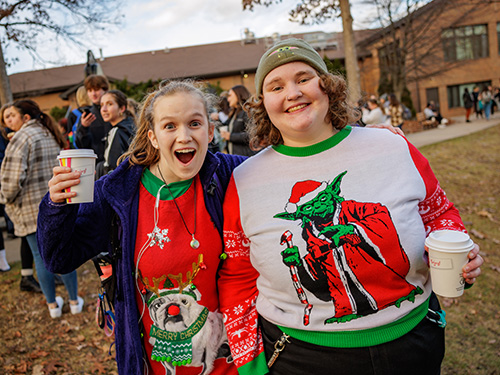 President Bellefeuille kicked off the Christmas season with the annual Lighting of the Pilot Lights on November 28. Students, faculty and staff gathered around the ponds at the center of campus to sing Christmas carols, light the trees around campus and spread Christmas cheer. Cookies, hot cocoa and coffee were also served. Prior to the event, faculty and staff volunteered to string the lights around campus.
Music Department Celebrates Bethel's 75th Year with Christmas Concert

Bethel's annual welcome to the Christmas season took place December 3, featuring the Concert Choir, Voices of Triumph, Chamber Orchestra, Percussion Ensemble, Jazz Ensemble, Jazz Combo, Wind Ensemble and special alumni guests from Christmas past. The concert began with sharing songs and stories, reminiscing about Bethel's 75 years of "favorite Christmases." It concluded with a focus on the birth of Christ, the most important "favorite Christmas" of all time.
Bethel Offers Day of Computing
Bethel's Center for Computing held a Day of Computing on March 6, in collaboration with the Office of Admission. The event, "Being Secure in Today's Digital World," enabled participants to learn to be safe as a user, learn about a career in cyber security and experience hands-on cyber security activities. Students also enjoyed an admissions presentation, campus tour and guidance on how to find the right major or minor.
Bethel Holds Open House for Human Performance Lab
Bethel University held an open house for the newly expanded and renovated Human Performance Lab on Thurs., Feb. 23, in the lab, located within Goodman Gymnasium on Bethel's campus. This grant-funded space features a large instruction room with taping and treatment tables and equipment for students to practice taping and assessment skills, a television and space to teach functional movement, as well as a smaller VO2 Max testing lab, where a 12-lead electrocardiogram (ECG) and treadmill show students firsthand how the body responds to exercise. The lab also features a stained-glass window, designed and built by longtime Bethel professor Larry McClements, who helped build the Kinesiology program. In the future, Bethel plans to offer neighborhood nights, open to the community, to teach about health and fitness topics. Read more.
Bethel Presents Festival of Jazz
The first annual Festival of Jazz Closing Concert and Award Ceremony was held Sat., Feb. 18 in the Everest-Rohrer Auditorium. Area high school jazz bands gathered throughout the day to perform, learn, and improv with some of the greatest professionals around. The event culminated with an evening concert, which was open to the public. Read more.
Bethel Together Raises Nearly $75,000
On March 15-16, Bethel Together featured 1,947 minutes of giving in honor of Bethel's founding year (1947). In total, 126 alumni, friends and new donors raised $74,580.04 for student scholarships and areas of greatest need. Lead gifts from Lyndon "Chet" Tschetter, Brotherhood Mutual and Dr. Rebecca Wilson provided a matching opportunity for gifts.
Theatre Celebrates 75th Year with First Musical Performed on Campus
On March 30, 31 and April 1, Bethel University's Theatre Department presented "Plain and Fancy," the first musical that was originally performed on campus in 1971. Audience members traveled along with two sophisticated New Yorkers, who, with property to sell, found themselves stranded in Bird-in-Hand, Pa. Their encounters with the local Amish provided a charming and eye-opening look into the "plain" people of this rural enclave. The score included the 1950's chart-topper "Young and Foolish."
Basketball, Soccer Win NCCAA and NAIA Championships
Bethel Men's Basketball claimed the 2023 NCCAA National Championship on March 18, outlasting the Clinton College Golden Bears 78-72. This is a first in 16 years and the eighth NCCAA championship in Men's Basketball program history.

The Bethel University Men's Soccer Team won the 2022 NAIA National Championship, defeating Mobile (AL) 3-1 at the Jack Allen Soccer Complex on Dec. 5. This is the first NAIA national title for Men's Soccer and Bethel's 4th NAIA team national championship in school history (the last one being Men's Basketball in 1998). Read more.
Bethel now has 47 team national championships in the NAIA and NCCAA. The NAIA (National Association of Intercollegiate Athletics) serves as the governing body for the athletics programs of 250 small colleges across the United States. The NCCAA (National Christian College Athletic Association) is
comprised of 90 schools in the United States.